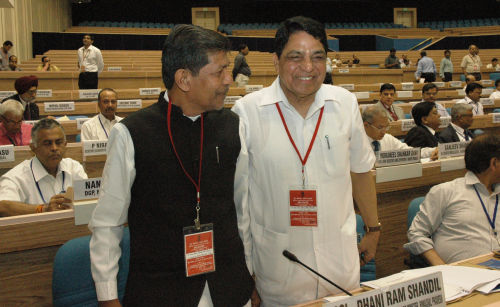 Himachal Pradesh Govt. has requested the Centre to provide liberal technical, financial, logistic assistance to the State to promote alternative crops in mid Himalayan districts of Kullu, Mandi, Chamba and Shimla to check cannabis and opium cultivation in the State.
While speaking in Vigyan Bhawan, New Delhi today on conference on 5th Report on "Public Order" of 2nd Administrative Reform Commission Himachal Social Justice & Empowerment Minister Dhani Ram Shandil said that Law Enforcement Capabilities in the State are required to be better trained, equipped and financed to address the problem of drug trafficking.
He requested the Central Govt. to treat the State in 'A' Category like J&K, NE for liberal financial funding under Central State contribution ratio of 90:10. He said that new MPF (Modernization of Police Force) Scheme has put the State in the category of State which are eligible for Central-State contribution ratio of 60:40 and requested the Centre to put State in 'A' category for enhancing Central contribution for modernization of the State.
Dhani Ram Shandil said that Himachal is the only State in the country to post women police personal in all police stations and said that State has set up all women India Reserve Battalion for women empowerment in the State.
He said that all women Quick Reaction Team have been deployed to provide crisis intervention and address the cases of sexual assault to the women.
Dhani Ram Shandil said that State border with J & K has been put on high alert as per intelligence inputs and requested the Union govt. to reconsider its decision of withdrawing 4 companies of ITBP from Chamba District to ensure peace and frequently in the Border areas of the State. He said that State has deployed 471 special police officers in borders areas along with J&K and requested the Union Govt. to revise their wages which were last fixed in the year 2006.
Social Justice & empowerment Minister said that State Govt. has heightened security around vulnerable and vital installations including tourist destination, shines and dams etc. in the State.