New Delhi: "The Health and Wellness Centers are expected to provide preventive, promotive, rehabilitative and curative care for a package of 12 services." This was stated by JP Nadda, Union Minister of Health and Family Welfare as he chaired the 5th meeting of the Mission Steering Group of the National Health Mission (NHM), here today.
Speaking at the meeting, Nadda said that NHM is vital to supporting the states in improving their health systems. He further stated that Hon'ble Prime Minister's announcement of the heightened focus on the aspirational districts also provides us with significant leverage point to address long persisting inequities and development lag in these districts. This will be strengthened through NHM.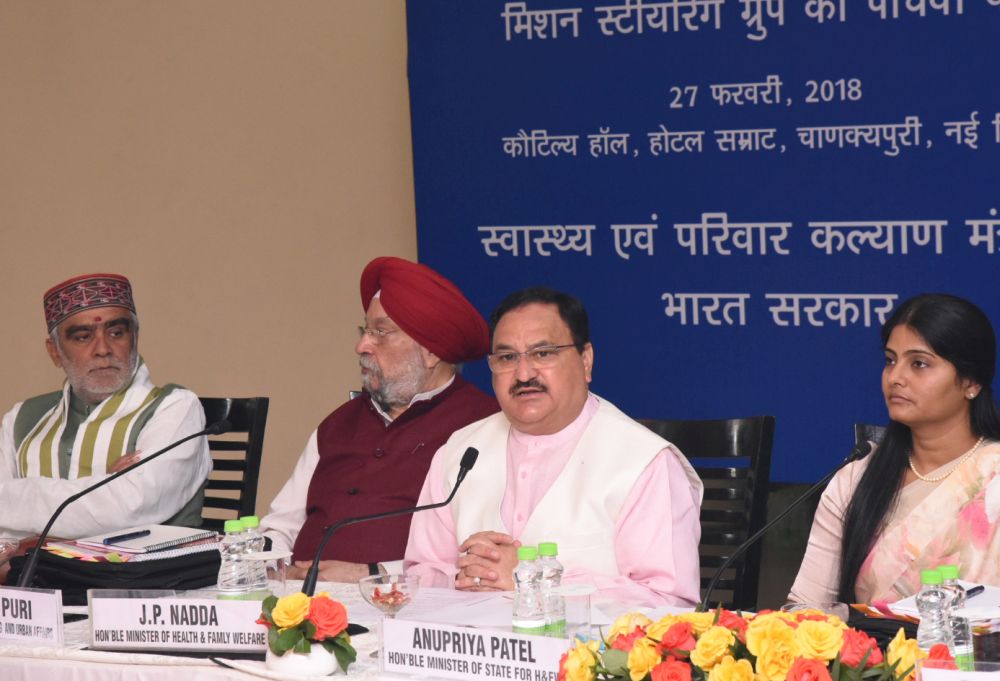 The Union Health Minister was updated about the progress under NHM. It was highlighted that under NHM-Free Drug Service initiative, funds are being provided to states/UTs for provision of free drugs in public health facilities and setting up of IT-backed systems for drug procurement and quality assurance. Currently all 36 states/UTs have notified policy to provide essential drugs free of cost in public health facilities. Under NHM Free Diagnostics Service Initiative, substantial funding is provided to States within their resource envelope to provide free essential diagnostic services at public health facilities. The program has been rolled out in 29 states/UTs which are providing free diagnostic Services either in-house or in PPP mode.
Hardeep S Puri, Union Minister of State (Independent Charge) congratulated the Health Ministry for the progress on MDGs, especially in terms of IMR, MMR, U5MR and HIV/AIDS. He assured full cooperation to the Health Ministry for overall development of the new aspirational districts.
The MSG of the NHM discussed various agenda points including enhancement of reach, outlay and facilities within components of the NHM, Prevention and Control of Viral Hepatitis, Immunization, Comprehensive Primary Health Care, Newer Intervention under Revised National TB Control Programme with respect to Patient's Support and Private Sector Involvement, capacity building of health workers, etc. Many suggestions were also made by other members of the MSG.
The Union Health Minister stated that the meeting offered a valuable and useful platform for candid discussion on several issues, and a wider perspective from a wide section of experts which will enable to enhance quality and effectiveness of the NHM. Nadda further added that the suggestions would be taken into consideration to guide the roadmap on interventions to be taken up.
Preeti Sudan, Secretary (HFW), ManojJhalani, AS & MD (NHM), and other senior officers of the Health Ministry were also present at the meeting. Representatives from Ministries of AYUSH, Tribal Affairs, WCD, Drinking Water and Sanitation, Panchayati Raj, Rural Development, Urban development, Department of Higher Education, Social Justice and Empowerment were also present at the meeting, along with experts in the field of healthcare.