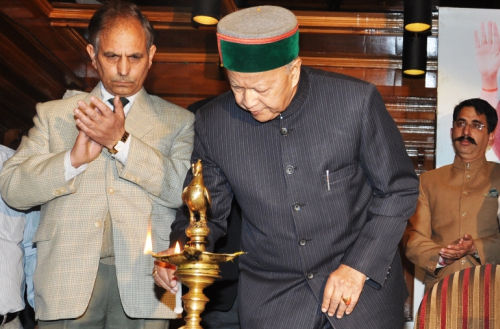 Chief Minister Virbhadra Singh said that Prosecutors were playing a vital role in justice delivery system and government would re-examine the matter to fill up of posts of Prosecutors on regular basis. The government would also consider winter and summer vacations to all the prosecutors at the analogy of the subordinate judicial officers in the state.
Chief Minister, while presiding over annual conference of H.P. Attorneys Association at Shimla last evening said that the role of Attorneys had increased manifold as compared to the year 1974 when the Prosecution Department was set up. He said that at that time there were few prosecutors who used to take care of the only criminal cases. Later on, the Assistant Public Prosecutors and Public Prosecutors were designated as Attorneys and they started looking after the work of civil and revenue as well. He said that at present the officers of the Prosecution Department were also efficiently looking after the litigation work also posted in various departments like Education, Health, PWD, Excise and Taxation.
Virbhadra Singh said, the responsibilities of Prosecutors, Attorneys and Law Officers had increased and they need to be update with the latest amendments in law as well as latest verdicts of the honorable Courts. In order to provide Information Technology facilities to the Prosecutors, Government had provided Laptops and Law Software to about 50 per cent officers and rest of the officers would be provided with the same in a phased manner.
Chief Minister said that the conviction rate in Himachal Pradesh was higher as compared to other states due to sincere efforts and hard work of Attorneys. Still there was scope for improvement and conviction rate should be more than 70 per cent in heinous crimes so as to have deterrent effect on the society especially on wrong doers. He said that the Government was providing basic facilities to the Prosecutors and necessary measures were being taken to provide official accommodation to the Attorneys.
Virbhadra Singh said recently District Attorney Office was inaugurated by him at Bilaspur and the construction work on offices at 15 other places was in progress. He said that a budget provision of Rs. 2.10 crore had been made during this fiscal year for this work.
He said that during his tenure as Chief Minister in 1997, Director of Prosecution was appointed from amongst the cadre of the Prosecutors to ensure effective and smooth functioning of the department. He said that Prosecutors face many hardships as they were the officers of the Courts and represent the State in the Court of Law. He said that initially they were class-II Officers and later on, upgraded to Class-I Officers in 2003.
Chief Minister said that demands of Association would be considered sympathetically. Additional Chief Secretary, (Home) Prem Kumar said that role of Prosecutors was important in ensuring rule of law and providing speedy justice to the people. He said that they required skill and elegance in pursuing court matters and their presentation should be compelling. In order to provide conveyance facility to the District Attorneys, a provision of Rs. 15000 per month had been made for hiring taxies.
President H.P. Attorneys Association, Kuldeep Singh Chauhan while welcoming the Chief Minister said that first conference of the Association was held in 1995 when Virbhadra Singh was Chief Minister. He said that Chief Minister had always been kind and considerate towards the needs of the prosecutors. He demanded improved salary structure and other perks such as government housing, transport, telephone facilities, non-practicing allowance, rob and library allowance etc. He also requested to revive 11 posts of District Attorney Revenue and Deputy District Officers besides, a Litigation Wing having Officers of the rank of District Attorney and Deputy District Attorneys in the H.P. Secretariat, sanctioned during the earlier tenure of Chief Minister Virbhadra Singh which were abolished by the previous Government.
Director Prosecution, Bhim Singh Pathania presented the vote of thanks. Principal Secretary to Chief Minister V.C. Pharka, Secretary Law Chirag Bhanu Singh, and members of the H.P. Attorneys Association were also present in the conference.