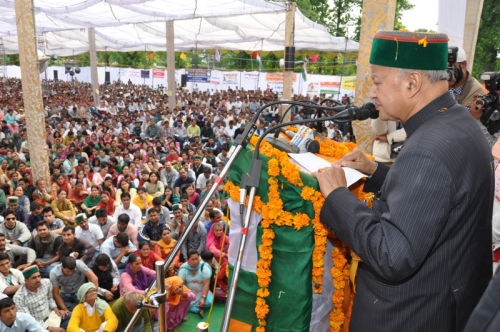 Chief Minister Virbhadra Singh announced to open Tehsil at Ner Chowk for Balh area besides Government Degree College would be opened at Rewalsar. He said it at Kansa Chowk in Balh area of Mandi district.
He lauded the role of employees and said that they have played significant role in implementing the policies and programmes of the Government in right perspective. He said that State Government was alive to the demands of the employees and their genuine demands would be considered sympathetically.
Virbhadra Singh accused previous BJP Government for put unnecessary financial burden on the State exchequer keeping in view their Mission Repeat. He said that previous Government left debt of about Rs. 35000 crore. He said that previous Government implemented Punjab Cabinet Sub Committee Report on pay scales in haste keeping in view Vidhan Sabha elections after implementation of Punjab Pay Commission Report which had created the disparity in pay of the employees.
Chief Minister said that land mafia, corruption and nepotism were at its peak during BJP regime. He said that all wrong land deals would be looked into and guilty would be punished according to law, howsoever, he may be influential.
Virbhadra Singh said that adequate funds would be provided for maintenance of roads and priority would be given to those roads which were neglected by the previous Government and are in deplorable condition.
Chief Minister said that nothing had been done by the BJP Government during four and a half years and during last six months of its regime it had opened many degree colleges without any budgetary provision. He said that during last tenure of Congress Government Rs. five crore budgetary provisions had been made for opening of new colleges.
Virbhadra Singh said that Government would ensure balanced and uniform development of all areas irrespective of political consideration. He accused previous BJP Government for adopting indifferent attitude towards areas represented by the Congress representatives.
Chief Minister said that Congress Manifesto had been adopted as Policy Document of State Government and Rs. 1000 would be given to unemployed youth and Rs. 1500 to disabled unemployed youth per month under Skill Development Programme. He said that previous Government had provided poor quality pulses and other food grains to the people under Public Distribution System. He said that present Government would ensure quality food grains to the people of the State through ration depots.
Virbhadra Singh said that State Government has accorded top priority to social services sector. He said that Rs. 1,371 crore were being spent under this sector which was about 34 percent of total annual plan.
Virbhadra Singh announced opening of Primary Health Centre at Leda besides upgradation of Government High School Mundaru to Senior Secondary School, Government Girls High School Bhangrotu to Senior Secondary School and High School, Kummi to Plus two school. He also announced upgradation of Middle Schools- Khakharayana, Serla Khabu and Tanwa to High Schools, Primary Schools- Nalsar, Chawari and Chahari to Middle Schools. He also announced opening of Primary Schools at Dhangu Ner Chowk and Darvyas. He also announced starting of Volvo bus service from Manali to Delhi and Mandi to Delhi to facilitate the commuters.
Speaking on the occasion, Irrigation and Public Health Minister Vidya Stokes said that the State Government was committed for welfare of all sections of the Society. She said that IIT Mandi and Medical College were opened by the UPA Government in Mandi district. She said that all government schools students were being provided free travel facility from home to school and vice versa in HRTC buses. She said that Social Security Pension has been enhanced to Rs. 500 from Rs. 450 while Rs. 1000 were being given to the senior citizens above 80 years. She said that Food Security Bill was being brought by UPA Government which would benefit all sections of the society especially poor. She said that Rs. 270 crore were being spent on providing subsidized electricity supply to the domestic consumers of the State.
Health and Family Welfare Minister Kaul Singh Thakur said that State Government has enhanced monetary assistance from Rs. 48000 to Rs. 75000 under Indira Awas and Rajiv Awas Yojna for construction of houses. He said that State Government was considerate about contractual employees, PTA, PAT, PARA Teachers and unemployed nursery teachers. He said that 17 universities were opened by the previous Government of which 11 were opened in Solan district alone. He said that 100 posts of doctors would be filled up during this year while 100 would be filled up next year besides filling up para medical posts. He said that vacant posts of patwaris would be filled up in phased manner.
Transport Minister and Food & Civil Supplies Minister G.S. Bali said that in order to bring transparency and ensure quality, the Government had invited global tenders for providing pulses through Public Distribution System. He said that previous Government had left Rs. 122 crore debt on subsidized ration. He said that Rs. 15 crore had been spent on the construction of single storey bus stand Mandi while four storeys could be constructed from this amount.
Excise and Taxation Minister Prakash Chaudhary thanked the Chief Minister for opening Tehsil at Ner Chowk for Balh area and upgradation of many schools and opening of PHC at Leda. He expressed gratitude towards Central Government for opening ESI Medical College and IIT in Mandi district. He said that various schemes like National Ambulance Service, National Rural Health Mission, MNREGA and Sarv Shiksha Abhiyan were all Central Government Schemes whose false claim was taken by the previous Government.
Chairman, State Planning Commission and 20 Programme Ram Lal Thakur, MLAs Mansa Ram, Sohan Lal, former Minister Rangila Ram Rao, Ex MLAs Tek Chand Dogra and Congress leader Chet Ram Thakur, District Congress Committee President Puran Chand Thakur and Balh Congress Committee President Kuldeep Thakur also addressed the rally. Deputy Commissioner Devesh Kumar, Superintendent of Police R.S. Negi, prominent Congress leaders of the area and senior officers were present on the occasion.