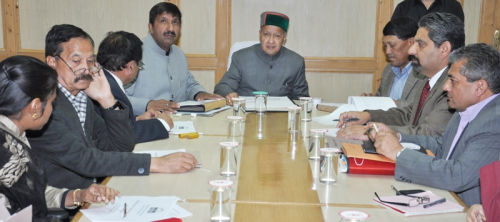 In a review meeting of Industries Department, Chief Minister Virbhadra Singh assured to take adequate steps and efficient planning to boost industrialization in the State. He said that industrialists would be given all clearances within 90 days to facilitate them for setting up industrial units in the State.
CM directed the Industries Department to identify and develop new industrial areas having state of art infrastructure facilities. He said that there were 39254 industrial enterprises in the State having investment of Rs. 17601 crore, which were providing employment to 2.72 lakh person. He said that industrial sector had about 16 per cent share in the State Domestic Product which needed to be increased.
Chief Minister said that during the first 100 days of the Government, 38 proposals had been approved by the State Level Single Window Clearance and Monitoring Authority (SLSWC&MA) with an investment of Rs. 608.64 crore having employment potential of 2000 persons. He said that under National Mission of Food Processing Industries (NMFPI) six proposals with an investment of Rs. 10.64 crore were approved. He said that Rs. 3.81 crore of loans to 43 Handloom Weavers Co-operative Societies were waived off besides, 14 rate contracts were finalized by the Store Purchase Organization.
Virbhadra Singh said that a Mini Tool Room was being set up at Baddi at a cost of Rs. 18.82 crore for which 15000 square meters of land had already been allotted to the Special Purpose Vehicle constituted for the purpose. A Pharma and Allied Industries Cluster Project for setting up of Common Effluent Treatment Plant, Skill Development Centre and improvement of roads was being implemented at a cost of Rs. 80.50 crore. He said that An Inland Container Depot had also been set up for the exporting industries which would be operationalized soon. Besides, Working Men and Women Hostels were also being constructed for providing low cost housing facilities for the workers.
Chief Minister said that the State Government was committed to check illegal mining in the State. He said that a Sub Committee under the Chairmanship of Chief Secretary would be constituted to give suggestions to check the illegal mining which would submit its report within a month. He directed the Department to take stringent action against the defaulters and impose heavy fine and penalties on them. He complimented the Department for taking swift action in this respect and detecting 1256 cases of illegal mining during last three months. He said that out of these 925 cases were compounded and a fine of Rs. 61.44 lakhs was recovered.
Industries Minister Mukesh Agnihotri said that big mafia was involved in illegal mining in the State which includes big fishes. He said that the Industries Department was contributing revenue of Rs. 146 crores annually and emphasized the need for providing Government vehicles for Mining Officers to curb illegal mining activities. He said that attracting fresh investment in the State was a great challenge in the absence of Special Industrial Package and efforts were being made to get fresh incentive package from the Government of India. He further said that the Investments Meets and Road Shows would be organized outside the State to attract fresh investment in the State. He also emphasized the need for filling up of critical vacant posts in the Department in a phase manner so as to promote industrial growth in the State.
Mukesh Agnihotri said that three new state of art Industrial Areas having about 500 bigha of land in each had been identified in Solan, Una and Kangra Districts as per budget announcement. He said that a consultant had been hired for preparation of Vision Document for the development of Food Processing Industries (FPI) in the State which would submit its report in next three months. He said that a notification had already been issued for concessional Central Sales Tax (CST) @ 1.5 per cent for the existing industries and one per cent on the setting up of new industries.
Additional Chief Secretary (Industries) Dr. P.C. Kapoor said that Department had prepared a road map for development of industries in the State. He said that all out efforts would be made to attract industrialists to the State and procedures were being simplified.
Principal Secretary to Chief Minister V.C. Pharka, Principal Secretary Finance Dr. Shrikant Baldi, Director Industries Mohan Chauhan and Senior Officers of the Department participated in the meeting.