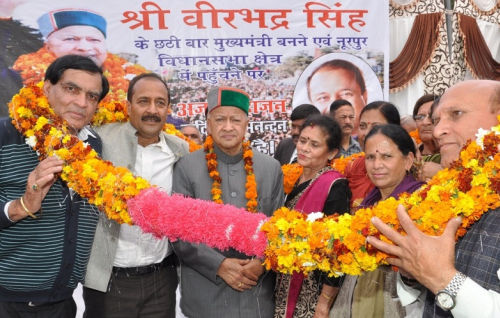 Chief Minister Virbhadra Singh said that added priority would be given for speedy development of Nurpur area which remained neglected during BJP regimes. He said that it was an important town and all pending developmental projects of the area would be completed on priority basis. He was addressing a mammoth gathering at Nurpur in Kangra district, today.
Virbhadra Singh said that a trauma centre would be established at Nurpur to ensure emergent medical facilities as it was located on national highway. He said that he had given 100 bedded Civil Hospital to Nurpur which was converted into 50 bedded by the previous BJP Government and now it would again be upgraded to 100 bedded hospital.
Chief Minister said that the stadium of Nurpur would be taken back from Himachal Pradesh Cricket Association and would be utilized as multipurpose stadium for sports and cultural activities. He said that the Mini Secretariat building Nurpur would be completed at the earliest and old bus stand would also be renovated to facilitate the commuters.
Virbhadra Singh said that the developmental works came to standstill during period of previous BJP Government but the present Government was giving special emphasis on accelerating the pace of development in all parts of the State. He added that paucity of funds would not come in the way of progress and development and State Government would ensure speedy development by generating own resources with its efficient financial management.
Chief Minister said that during his four-day long visit to Kangra district, he was meeting the people personally so as to know their grievances and expectations from the administration. This has helped in redressing most of their grievances on the spot.
Virbhadra Singh also listened to the public grievances at Nurpur. Various delegations also met the Chief Minister regarding their demands.
Earlier, Chief Minister was given rousing reception at Kotla, Shahpur, Jhonta, Bhadwar and other places en route to Nurpur.
Local MLA Ajay Mahajan welcomed the Chief Minister to his home segment and apprised the Chief Minister of various problems of the area.
President of Nurpur Nagar Parishad Krishna Mahajan also welcomed the Chief Minister.
Kumar Dogra, a resident of the area, presented a draft of Rs. 10,000 to the Chief Minister towards Chief Minister's Relief Fund on the occasion.
Chief Parliamentary Secretary Neeraj Bharati, MLA Manohar Dhiman, Vice Chairman, HRTC Kewal Singh Pathania, former MLAs Surender Kaku, Ranjeet Bakshi and Bodhraj, Member Secretary, Khadi Board, Manmohan Katoch, prominent persons and senior officers were present on the occasion.