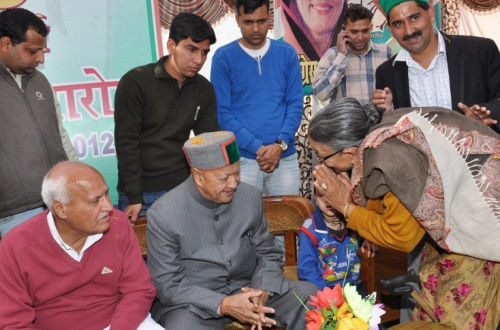 Chief Minister Virbhadra Singh laid foundation stone of water supply scheme for Dharamshala town in Kangra district. The scheme would be completed by spending Rs. 21-cr and would benefit about 50,000 people of seven wards of the town including Jwaharnagar, Chellian, AIR Colony, Gadiara and Narghota.
Later, Virbhadra Singh while addressing gathering at Rait village near Shahpur said that the Congress led governments in the State never adopted the course of revenge and discrimination but it always believed in the development of all sections of the society irrespective of any ideology. He said that the Congress government was committed for all-round development of all the areas and balanced development of all the areas would be ensured. The Congress government aimed at providing a transparent and corruption free administration in the state.
He said that the Congress always worked for the unity of the society, state and nation. This party had a long history of 127 years and had always been working for the development of the country. In comparison to Congress different political parties took birth only before elections or when there was any dissent in any political party. Reacting upon the comment of Gujrat Chief Minister Narender Modi, he said that such comments on a stalwart like Indira Gandhi was ridiculous and not in good taste.
Chief Minister said that though there could be ideological differences but there should not be any bitterness in the hearts. Nobody ever grew by rearing acrimony and any change for good should always be welcomed especially when it was the supported by the public. The public in the state was fed up with the previous BJP government and voted in favour of the Congress. He thanked the people of the state and Kangra district particularly for their massive support in the Vidhan Sabha general elections.
Vice-Chairman HRTC Kewal Singh Pathania, while welcoming the Chief Minister said that soon a booklet, containing comparative data from the day, Virbhadra Singh took over as Chief Minister for the first time on April 8, 1983 to the present day, would be published to apprise the people of the false claims of the opposition. Earlier, the Chief Minister was welcomed by the people gathered from various corners of Shahpur constituency.
Various delegations and people shared their problems and woes with the Chief Minister. BSF Boh Association apprised the Chief Minister of the land issue with the BSF and registered their protest. MD Doctor's Association requested the Chief Minister that PG seats should be increased from 66 to 90 and in-service seniority should be maintained. Other deputations, including Krishak Mittar Association, Pensioner's Association, Panchayat Technical Association, Panchayat Pradhans, PG Ayurvaidik Doctor's Association and PTs Association also met the CM.
Town and Country Planning Minister Sudhir Sharma, former Minister and MP Chander Kumar, Ex-MLA Surender Kaku, DCC president Suman Verma, a prominent Congress leader Jagdish Sipahia and officers of district administration were present on the occasion.