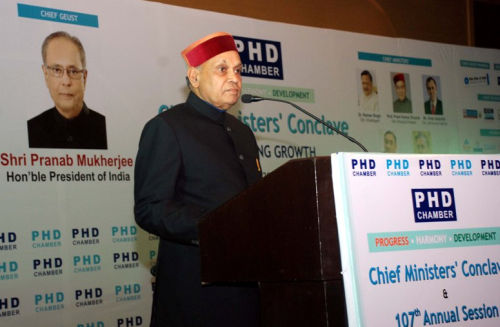 Chief Minister Prem Kumar Dhumal has requested the Central Government to announce new industrial packages for North Western States of Himachal and Uttrakhand due to locational disadvantages of these hill States. While speaking in 107th annual session of PHD Chamber of Commerce and Industries in New Delhi, he also suggested for inclusions of Shivalik hills and Kandi areas of Haryana and Punjab in new industrial package due to difficult topographical and geographical conditions in these areas which are similar to Himachal and Uttrakhand. He said that industrialization process would be much faster now as the State has developed modern infrastructure in comparison to earlier time when sufficient time had to be devoted for creating basic infrastructure like roads, electricity, housing etc for developing the new industrial estates for facilitating the setting up of new units. He said that various international agencies had appreciated the social and developmental programmes of the State Government and added that World Bank has sanctioned soft loans of Rs 1150 crore for sustainable development of the state and has released its first installment of Rs 550 crore to the State.
He requested the Union Government to decentralize the planning process to formulate the policies based on geographical needs of each State and added that uniform centralized planning has failed to meet the targets due to different topographical and geographical conditions of various states and various difficulties in execution stages due to stringent conditions laid down by Union Government. He asked for setting up Trans Himalayan Development Agency to design and formulate the policies and programmes exclusively for hilly States of the country and actively involve the experts associated with hills development who are familiar with local needs, raw material, expertize and manpower for better utilization of the local resources. He told that forest cover in the State has increased by 11 kilo meters and told the State Government has taken various steps for the overall social and economic development of the State. He said that State has highest 92 % rural population ratio in the country and told that there has been least migration of rural population from villages to cities in the State due to better economic avenues and modern facilities in the villages of the State.
Chief Minister told that State has highest literacy rate in the country and infant mortality rate has been recorded as lowest in the country and target has been fixed to achieve zero percent infant mortality rates in the State. He told that primary schools had been set up within half kilometre distance for each child for universalisation of primary education and achieves hundred percent literacy rates in the State. He told that State has been adjudged among the three best states in the country for living conditions standards and said that massive health insurance cover has been provided to its citizens under which all Government hospitals have been directed to provide free medicines to all indoor patients admitted in the wards. He said that health insurance cover up to Rs 1.75 lakh has been provided for covering serious ailments. He said that State is power surplus State which is providing round the clock electricity at most reasonable rates to the industrial sector while the Government is only charging Rs one per unit from APL families and are charging seventy paisa per unit from BPL families.
He said that State has the distinction of providing electricity to highest village of world Kibber in tribal belt which remains cut off due to heavy snowfall in average 9 months in a year. He said that State Government has provided 4 free C F L to all its 16.5 lakh electricity consumers with total cost of Rs. 63 crore which is saving the annual electricity worth 110 crore in the State.