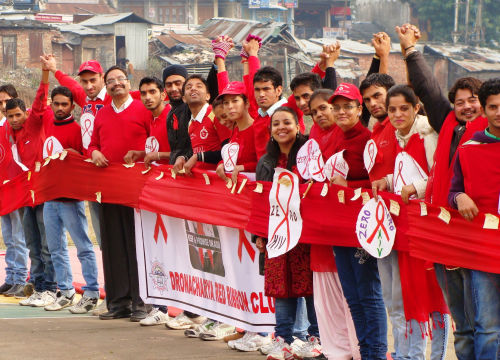 A red human chain with the theme of "Stick to the promise for AIDS" was created by youth of Red Ribbon Club (RRC) Dronacharya College of Education Rait (Kangra). The awareness event at Govt Sr Secondary School Shahpur, was witnessed by local students.
Pledges by over 200 youth in the form, sticky notes with enthusiastic slogans and hopeful buzz phrases reminding all to "stick to their commitment" were all over the bodies of youth, who adored the message of the ultimate goal- Zero HIV. District AIDS Programme Officer, Kangra Dr RK Sood, on the occasion appreciating the commitment of youth, said that youth can help provide new momentum in the global response.
The passion and creativity orchestrated by the RRC Youth reflected the level of commitment and leadership qualities of the group – each coming with his/her own unique talent and skill. GS Pathania MD of college stated that "This is a call to reinvigorate and galvanize the movement of youth in the face of this unprecedented global crisis that affects us all".
Block Development Officer, Pradeep Kumar who joined the youth on the occasion, stated that one of the greatest barriers to further progress is HIV-related stigma and discrimination, which is fueling ignorance, injustice, denial and hate to the affective people.
The youth pledged their commitment to decreasing stigma and discrimination and promoting safer sexual practices amongst their peers in the country.
At this crucial juncture when the world seems to be losing momentum in the fight against the AIDS epidemic, with millions of new people infected last year, the show of solidarity is an energizing step-where youth show the way and reignite the momentum. Ashwani Dhiman, principal of GSSS Shahpur added that "AIDS remains one of the world's most serious health challenges" and commit to join together in solidarity.
Box- AIDS is still here:
In 2011 there were 2.5 million new cases of HIV. That is more than double the target of having only 1.1 million people newly infected each year- which indicates that we have all lost momentum on the prevention front.
Thirty years have passed since a new illness was first identified in medical reports. Since then, over 30 million people have died from AIDS-related illnesses, deaths that can now be prevented if people receive accurate information, treatment and support.
Nodal Officer of the Club Charu Kaushal making the people aware on the occasion stated that AIDS represents a truly formidable challenge – there is now a potentially tragic and growing gap between national needs and the funds available to meet them. Despite some amazing progress made in the past decade, Getting to Zero may become wishful thinking if resources are not scaled up.