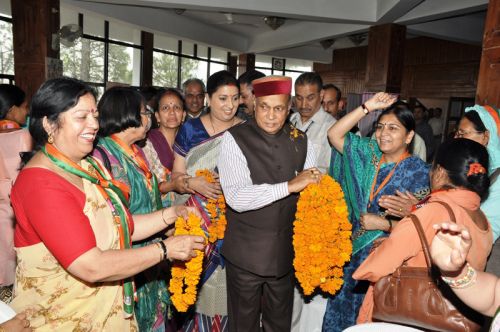 In the closing ceremony of two-day long National BJP Mahila Morcha Executive Committee Meeting at Solan, Chief Minister Prem Kumar Dhumal said that the State is making concerted efforts to empower women socially and economically by envisioning and implementing a number of new schemes aimed at achieving the objective. He was delivering the valedictory address on the today.
Chief Minister said that it was BJP Government which had reserved 50 percent seats to women in panchayati raj institution with a view to encourage their participation in policy formulation and development of areas they represented. He said that in the last elections held for Panchayati Raj Institutions 58 percent women had been elected which speak volumes of public response towards women empowerment. He said that the State Government had decided to provide 33 percent reservation to women in cooperative societies so that they were involved in giving momentum to the cooperative movement. He said that Rs. 300-cr Doodh Ganga Yojna was basically being dominated by women oriented self help groups and a large number of women groups had started earning remunerative returns for their dairy faming activities.
Prof. Dhumal said that Beti Hai Anmol, Matri Seva Yojna, Mata Shabri Mahila Sashaktikaran Yojna, Mukhya Mantri Kanyadaan Yojna were some of the schemes under implementation for women empowerment.. He said that State was providing free education to girl child upto the highest standard besides scholarships ranging between Rs. 300 to Rs. 1500 per month. He said that free medical check up under Mukhya Mantri Vidyarthi Swasthya Karyakram all students were being examined medically free of cost. He said that free institutional delivery facilities, free ambulance service, medical test and care for one year and Rs. 600 was also being provided to women under Matri Sewa Yojna. He said that while working women were provided public holidays on Raksha Bandhan, Bhaiya Dooj and Karva Chouth, house wives were also facilitated by providing free travelling facilities in HRTC buses on Raksha Bandhan and Bhaiya Dooj.
Prof. Dhumal said that the BJP Government on coming to power had adopted Election Manifesto of the party as Policy Document of the State Government and had not only implemented all the promises made therein in to but delivered goods beyond the scope of the Manifesto.
Chief Minister said that with the visionary and progressive policies and programmes of the BJP Government every household in the State was benefitted irrespective of their political alliance, economic and social status. He said that it was common man's government at the helm of affairs which had been according top priority to their social and economic upliftment. He reiterated the resolve of the State Government to speedy uplifitment of every section of the society, especially women so that they were enabled to lead a respectable life in the society.
Prof. Dhumal also welcomed the delegates from all over the country to Himachal Pradesh and thanked them for the visit. Shyam Jaju, Co-Incharge of HP BJP, also lauded the achievements of the State Government and said that BJP Government in different states of the country were performing outstandingly and secured their positions for achievements at national level. He congratulated Dhumal for winning Himachal over five dozens of awards of national and international level.