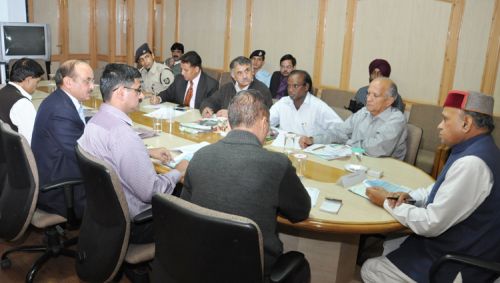 The Integrated Inter-State Bus Terminal (ISBT) has been completed and is ready for dedication to the people of the State on 29th August 2011. Chief Minister revealed it in the meeting convened to finalise the traffic plan of buses to operationalise the ISBT at Tutikandi, in Shimla.
Chief Minister said that the ISBT Tutikandi had been completed with unique special features consisting of three floors parking to accommodate about 150 small vehicles, crew rest room, canteen and office space besides two floors of modern shopping mall, two multiplexes, hotel and food court supported by water tanks, drainage, lighting, DG set, transformers for back up, security cabins and surveillance through CCTVs. He said that the new bus terminal would have no passenger-vehicle conflict since the movement of private vehicles and buses would be segregated evolving the 'Drive-Way Concept' for private vehicles for dropping passengers. He said that arrival and departure of the buses would be at different levels, since 11 bays had been dedicated for arrival and 24 at departure level having the facility of dedicated doors for entry and exit of passengers for each arrival bay and departure bay with LED display screens at both level. He said that the enclosed passenger concourse at both levels consisted of waiting area, public conveniences, drinking water and cloak room while ticket booking/advance reservation/enquiry at ground level and self-serviced online reservation kiosks had been provided at departure level.
Dhumal said that the traffic plan of buses in Shimla town would be modified to suit to the requirements of the commuters visiting and leaving the town from ISBT. He said that the buses coming from Chandigarh, Bilaspur, Nahan areas and terminating at Shimla would go directly to ISBT Tutukandi and on return journey originate from there. The buses coming from upper Shimla, Kinnaur area and terminating at Shimla will continue operating via Chhota Shimla, Bemloe, Old Bus Stand but will terminate at ISBT Tutikandi and for return journey, would originate from the ISBT and proceed further via Lakkar Bazar, Dhalli bye-pass while others continuing their journey towards Chandigarh, Bilaspur and Nahan areas will operate via Dhalli bye-pass, Sanjauli, Chhota Shimla, Khalini Chowk, Kanlog, Lalpani to reach ISBT. Buses coming from Chandigarh, Bilaspur and Nahan and going towards upper Shimla and Kinnaur areas will touch ISBT and after alighting and boarding will continue its journey via Lakkar Bazar, Dhalli to further destinations.
Chief Minister said that the old bus stand would henceforth function as local bus stand for operating within Shimla town as well as for peripheral locations within the radius of 30 kms. He said that all local buses operating within Shimla town from various locations such as New Shimla, Sanjauli, Vikasnagar, Panthaghati, Summerhill, Shoghi etc. would continue to operate from old bus stand, however, some of them will be extended upto ISBT to provide better connectivity from various locations to the commuters. He said that for the convenience of vegetable/milk vendors the buses operating from peripheral locations beyond Dhalli but within the radius of 30 kms would continue operating via Chhota Shimla to old bus stand but would be extended to ISBT. The buses operating from Tutu and Shoghi side would be directed towards Victory Tunnel, presently operating via Lakkar Bazar, Sanjauli, Chhota Shimla to old bus stand, would operate directly from Victory Tunnel to old bus stand.
Chief Minister said that Murdika service would be operationised on Dhalli-Chhota Shimla-Old Bus Stand, Old Bus Stand-Lakkar Bazar-Dhalli and New Shimla-Old Bus Stand routes running throughout the day except during school timings when the same would be extended to ISBT. He said that in addition to above arrangements, five additional shuttle buses would be kept operating throughout the day from early morning to late evening between ISBT Tutikandi and old bus stand. He said that some of the route buses terminating at ISBT Tutikandi and fixed for operation in the early morning would be extended upto various locations within Shimla town to provide connectivity from the town to ISBT. He said that connectivity between ISBT Tutikandi and six important hubs in the town i.e. Old Bus Stand, Tutu-Summer Hill, Lakkar Bazar, BCS/New Shimla, Vikas Nagar/Panthaghati and Sanjauli/Dhalli will be ensured from early morning to late evening. He said that special recognition stickers will be issued to the buses operating from Old Bus Stand. He said that best efforts had been made to ensure that the commuters were not put to any inconvenience while the traffic system was also regulated smoothly.
Earlier Principal Secretary Transport T.G. Negi welcomed the Chief Minister and revealed the state of the art facilities to be made available to the people. Bharat Khera, Managing Director, HRTC, gave a detailed presentation of the proposed traffic plan designed to meet the demand of commuters.
Narender Chauhan, Principal Secretary Home, Dr. D.S Manhas, Director General of Police, Dr. AJV Prasad, Secretary Home, A.N Sharma, Commissioner, Municipal Corporation, Onkar Sharma, DC, Sonal Agnihotri, SP, Dhruv Vashisht, Director Transport and other senior officers attended the meeting.