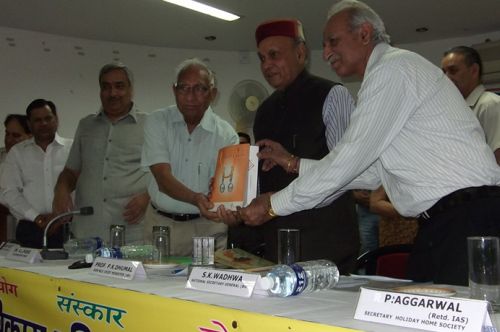 Chief Minister Prem Kumar Dhumal inaugurated a 16-Slice, CT SCAN Machine set up by the Bharat Vikas Parishad in its Charitable Medical Centre in Sector-24B, Chandigarh today. The machine has been set up at the cost of Rs.1.5 crore to provide CT scan facilities at nominal charges to the patients.
Speaking on the occasion, Dhumal made fervent appeal to the people to contribute liberally towards philanthropic activities in order to mitigate the sufferings of poor and needy. He said that "Chief Minister's Relief Fund" had been set up by Himachal Pradesh Government to provide financial assistance to the poor and needy people for treatment and in extravaganous circumstances. He said that Rs. 23.5 crore had been sanctioned out of this fund during last four years.
Chief Minister eulogized the efforts of the Bharat Vikas Parishad for its efforts in the service of poor and needy. Ajay Dutta, Director of the Bhart Vikash Parishad Charitable Medical Centre revealed that around 2000 clinical tests of different kinds were being conducted daily in the Centre including 250 Ultrasound scans. The center had four Ultrasound machines for the purpose.
Dr. K.L.Passi, Chairman and K.M.S.Nambiar, Secretary of Bharat Vikas Parishad also spoke on occasion. Ravinder Singh Ravi, Irrigation and Public Health Minister, Satya Pal Jain, former MP and other prominent people were also present on the occasion.