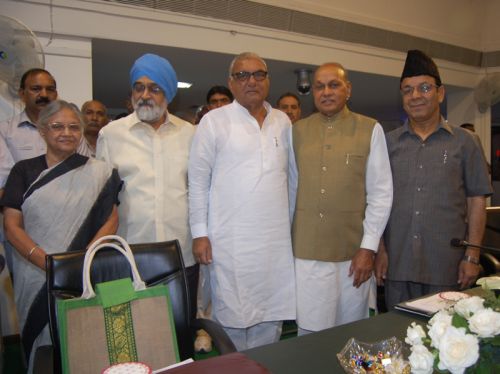 Himachal Pradesh Government has demanded the centre to sanction minimum 27556 crore plan size for the State for 12th Five Year Plan period for the year 2012-17. While speaking in meeting of the Regional Level Consultation on 12th Plan Approach Paper convened by Planning Commission at New Delhi today, Chief Minister Prof. Prem Kumar Dhumal requested the Planning Commission to double the size of 11th Plan keeping in view the prevalent rate of inflation.
Chief Minister call for the time bound road map for tapping hydro power potential during the 12th plan told that state has power potential of over 23000 MW. Out of which, almost 44% was under the control of BBMB and Punjab and the State gets very little benefit from this. He told that harnessing of balance power potential was top priority of the Government during the 12th Plan period and requested the Central Government for support on various critical issues like environmental clearance in this sector.
Prof. Dhumal urges Centre to ensure the legitimate concerns about transmission arrangements from each river basin and added that countrywide distribution reform must be put on the fast track failing which investment in the generation sector was likely to be adversely affected. Chief Minister requested the Planning Commission to address the critical issues like forest clearances and payment of N P V in constructions of roads under PMGSY and added that state is not able to utilize its allocation under PMGSY as most of the road projects fall in the forest area. He suggested for the inclusion of NPV in the project cost under the PMGSY for faster implementation of PMGSY programme in the Hill States. Prof. Prem Kumar Dhumal requested the Central Government to sanction special package for tourism development in the state and provide funds for construction of an airport near Shimla with landing facilities for a Boeing/ Airbus aircraft to strengthen the civil aviation infrastructure in the state and further requested for subsidizing operations of helicopter services in Western Himalayan states on the pattern of the North-Eastern.
He asked for adequate budget provision, for the targeted completion of all the ongoing railway projects in our State during in the 12th Five Year Plan and told that there had been very slow progress in the development of railway infrastructure in Himachal Pradesh since independence. He told that only 36 K.M railway line had been constructed in Nangal- Talwara Railway line project since last 27 years. He asked the Union Government to declare the Bilaspur-Leh via Manali Rail Line as project of National importance and also resolve the issue of cost sharing for Bhanupalli-Bilaspur-Beri Rail line at the earliest. He said that hilly states are relatively more vulnerable to natural calamities and demanded enhanced allocation for calamity relief to hill States. He requested for liberal Central funding for creating and upgrading strategic infrastructure in border areas on strategic considerations and also pleaded for proper compensations to hill states based on opportunity costs, on account of the eco-services being provided by them and further extension of period of central industrial package in all western Himalayan States. He requested the Central Government sanction for imposing generation tax on hydro-power and enhancing free power royalty to strengthen the economic base of the states.
Prof. Dhumal said that norms for cost of infrastructure development and social sector projects/schemes in hill States should be enhanced on account of topographical considerations and further requested for 20% enhancement in the present income criteria for BPL families for hill States due to relatively higher cost of living .He told that Hill States face unique problems and challenges in terms of difficult terrain, topography and associated higher costs of investments. He requested for special central financial package to state during 12th Plan in view of unrealistic and gross under estimation of states liabilities by 13th Finance Commission to compensate the State Government and enable the formulation of a 12th Plan for the State. He asked for early report of "Group on Finances of Special Category States" to explore a reasonable solution to compensate states during the post 13th Finance Commission Award.
Chief Minister told that the recommendations of 13th Finance Commission on the State's finances threatens to derail the entire planning process in state and jeopardize the impressive gains made by Government over the years and told that 13th Finance Commission had provisioned an increase of only 50% over the 12th Finance Commission Award for state while giving an average increase of 126% to all other States. He told that the 13th Finance Commission had not covered the non-plan gap for 2010-15, resulting in a huge BCR gap for each year during this period and added that State Government had already sent the projected BCR gaps from 2010-15 to the Planning Commission bringing out the need for additional financial support. He demanded equity among Special Category States for allocation of funds under CSSs and requested for funding pattern of 90:10 to State as is applicable to the North-Eastern States. While urging the Central Government to reduce Centrally Sponsored Schemes(CSS), he told that allocation under most CSSs is linked to intensity of needs thereby better performance only leads to a lower fund flow. He told that Centrally Sponsored Schemes often tend to advocate adoption of a uniform process or replication of a best practice from a specific part of the country which may be completely unsuited to many of the States. He requested the planning commission to appropriately restructure schemes of Inter Government Financial Transfers which must recognize the role of States in the accountable delivery of development objectives and support genuine need and reward better performance.
Chief Minister suggested two window approach to restructure CSSs specially the flagship programs of the Government. The first Window should provide normative investment support to achieve outcomes while a second 'Performance Window' should reward results on 'credible indicators'. The investment support should allocate funds on the basis of transparent norms to each State without any incentive to exaggerate backwardness or underperformance. It should be flexible in the manner in which these funds can be deployed so that the States can prioritize as per their own felt needs he added.