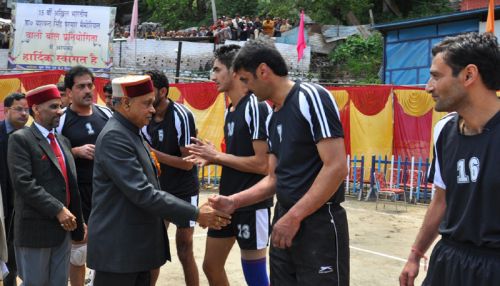 Chief Minister Himachal Pradesh announced to give one crore for the Himachali, who will win Gold Medal in the forthcoming Olympics in Great Britain. Silver Medalist will get Rs. 50 lakh and Bronze Medal Winner will be reward with Rs. 25 lakh cash prize.
Chief Minister said it while inaugurated the three-day long 15th Dr. Y.S.Parmar Memorial Volley Ball Tournament. Tournament is organized by the Department of Youth Services and Sports. While inaugurating the tournament Chief Minister
Chief Minister said that sports infrastructural facilities were being created in rural areas besides providing each of the panchayats, nagar panchayat, municipal council and municipal corporation gymnasium to channelise energy of rural youth and making them health conscious. He said that Rs. 17 crore had been provided to achieve the objective. He said that synthetic athletic tracks were being constructed at Dharamshala and Hamirpur, at a cost of Rs. eight crore each, with a view to provide world class infrastructural facilities to budding athletes of the State. He said that additionally Rs. 7 crore astro-turf hockey ground was also being constructed at Una thereby adding to the world class sports infrastructural facilities within the State. He said that there were a number of programmes under implementation to give boost to sports activities in the State.
Chief Minister said that the State Government had given three percent reservation in government service to the outstanding sportspersons. He said that diet money of the players within and outside the state had also been increased substantially to ensure nutritious diet to sportspersons. He said that besides providing cash awards to the outstanding sportspersons, ' Parshuram Award' the highest sports award of the State was also being given to them. He said that nine sportspersons were conferred with 'Parshuram Award' on Himachal Day, April 15, 2012 while 83 sportspersons were also honoured for their excellent achievements in different sports events.
Suresh Bhardwaj, Hira Lal, MLAs, Bhagat Ram, former MLA, Ganesh Datt, Vice Chairman, HIMUDA and other prominent people of the town and senior officers of different departments were present on the occasion.