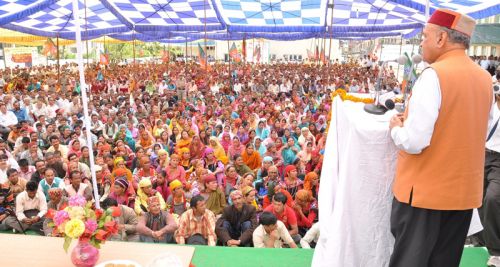 Detailed Project Report of long Holi-Uttrala tunnel project had been completed and construction work over the project would be started on priority. Chief Minister said it in a public meeting at Bainjath, after dedicating the newly constructed building of Pandit Sant Ram Government Degree College to the students of the college, completed at a cost of Rs. 855 lakhs, Mini Secretariat/Combined Office Building, to the people of the Sub-Division, completed at a cost of Rs. 291 lakhs. He also performed foundation stone laying ceremonies of SC/ST/OBC Hostel within the college campus, estimated to cost Rs. 271.30 lakh and 9 Type-II NGOs quarters, estimated to cost Rs. 74 lakhs, at Baijnath, in district Kangra today.
Chief Minister said that the 7 kms. long tunnel project would be costing about Rs. 1571 crore and would reduce distance between Holi in district Chamba and Uttrala in Baijnath Sub-Division of district Kangra by 140 kms. He said that the State Government had accorded high priority to the tunnel projects to not only reduce geographical barriers but also integrate the state emotionally. He said that construction of Holi-Uttrala had been a long pending demand of the area and the BJP Government had got the detailed project report prepared and construction work would also be started on priority.
Prof. Dhumal said that the State Government had enhanced the corpus fund created for working journalists from Rs. 10 lakh to Rs. 25 lakh to provide financial assistance during any emergent cases. He said that health insurance cover of Rs. 1.75 lakh had also been extended to working journalists. He said that over 50 thousand petty traders in the State had also been extended insurance cover of Rs. one lakh. He said that Rs. four crore were being spent on providing residential facilities to the employees of different departments posted in district Kangra during current financial year. He announced opening of ITI in old college building with five-six trades in Baijnath and tehsildar Baijnath would camp at Chadhiar for one week every month.
Chief Minister said that with the substantial increase of daily wages financial benefits worth Rs. 27,725 per annum were being ensured to every daily wage worker by increasing daily wage from Rs. 75 in year 2007 to Rs. 130 from April this year. He said that with a view to help people of the State overcome the agony of rising prices, the State Government had endeavoured to increase purchasing power of its people. He said that by rising above political considerations the State Government had decided to provide subsidy of 50 percent to the beneficiaries of SC BPL families on purchase of
LPG connections and 75 such families would be benefitted in each of the 68 assembly segments of the State. He said that Atal Bijli Bachat Yojna, Subsidised essential commodities and domestic power had touched every family in the State irrespective of their social and economic status.
Prof. Dhumal said that Beti Hai Anmol scheme had been launched to check female foeticide and Rs. 10,000 was being deposited at the time of the birth of the girl child of BPL families which would get multiplied by the time girl attains age of adulthood and meet her many requirements of education and marriage etc. He said that there were a large number of schemes aimed at women empowerment. He said that Atal Swasthya seva was providing free ambulance service to the people of the State. He said that the fleet strength of the ambulance was being increased from 108 to 135 during current financial year so that the services could be extended to interior parts of the State.
Chief Minister said that the State Government had carried development uniformally by rising above political considerations and keeping in view speedy development of entire state. He said that Congress had always been attempting in vain to mislead people about the development they had failed to make in the State during their regime and had always been busy in dividing the state emotionally and geographically for its own vested interests while the BJP Government had always ensured that the state was emotionally integrated. He said that not only all promises made had been fulfilled but the BJP Government had performed beyond its promises made to the people keeping in view the demands of the people. He said that the State had got sanctioned Special Industrial package to the States of North India on the analogy of North Eastern States. He said that the Package announced by the then Prime Minister of NDA Government Shri Atal Behari Vajpayee for ten years which was withdrawn three years ahead of its scheduled date thereby jeopardising the pace of industrial development in the State.
Prof. Dhumal said that legitimate quota of the State in essential commodities had been reduced drastically and two of the Cabinet Ministers in the Union Cabinet representing Himachal Pradesh had never been able to protect the interests of the people of the State. He said that five new National Highways had been got sanctioned but had not been notified by UPA Government and both of the Union Ministers had not extended their cooperation in getting them notified. He said that people of Himachal Pradesh had always been making sacrifices for the cause of the nation but were not being compensated by the Centre. He said that no funds were being provided by Centre for maintenance of National Highways and the State Government was carrying repair and maintenance out of its own coffer.
Chief Minister said that the State Government had repeatedly been requesting Centre to expand railway network in the State and connect national border in Laddakh region with all weather broad gauge railway line to transport man and material of army besides other railway lines within the State of Himachal Pradesh.
Prof. Dhumal sanctioned Rs. 20 lakh for development of parking slot at Paprola and Choubin chowk to be beautified besides spending Rs. 23 lakh for development of parking slot in Baijnath town.
Prof. Dhumal was presented a draft of Rs. 1,38,101 by Shri Inder Bhardwaj, SDM Baijnath, as contribution towards Chief Minister's Relief Fund on behalf of the employees of different departments/Boards/Corporations/ panchayats in the sub-division while Rs. 5100 were also presented by Pradhan, Gram Panchayat, Bara Bhangal.
Trilok Kapoor, Chairman, Woolfed, called it a historic day in the development history of the Baijnath segment, when during one day visit to the segment Prof. Dhumal had dedicated development schemes worth about Rs. 15 crore to the residents of the area. He thanked for developing Bir area with Rs. 4 crore for international para gliding events and developing Ayurvedic College as university.
Ravinder Singh Ravi, Irrigation and Public Health Minister, Sarveen Chaudhary, Social Justice and Empowerment Minister, Cap. Atma Ram, MLA, Rajgir, Vipin Parmar, MLA Sulah, Sanjay Chaudhary, MLA Kangra and senior officers of the district were present on the occasion.