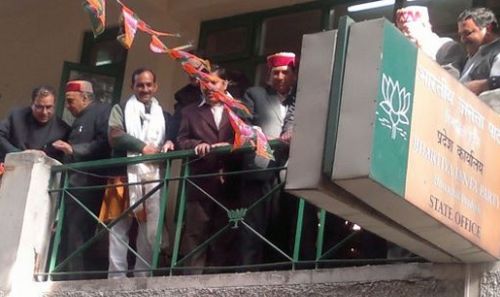 Satpal Satti took over State BJP chief, but his task to unify the BJP seems started from the day one as many ministers and legislators owing loyalty to former Chief Minister Shanta Kumar skipped the event.
The prominent faces who skip the Satti's function were Ministers Kishan Kapoor, Ramesh Dhawala and four legislators, Khushi Ram Balnahata, Vipin Parmar, Des Raj and Praveen Sharma. However senior leaders, including Chief Minister PK Dhumal, national BJP general secretary JP Nadda, national secretary and co-in charge of the party affairs in Himachal Shyam Jaju, ministers and MLAs, were present on the occasion.
The absence of the two ministers became all the more embarrassing for party leaders as only two hours before the installation ceremony they had attended a Cabinet meeting.
Even though it was expected that Shanta Kumar, Rajya Sabha MP and national BJP vice-president, would be unable to attend the function as he was away to the North-East, he, too, chose to head straight to his hometown Palampur from Delhi today rather than making it convenient to attend today's function.
Satti, who has the full backing and support of the Chief Minister, said the biggest challenge before him was to ensure that the BJP repeated its government by winning the Assembly poll, due later this year. "With the blessings of senior state and central leaders, I want everyone to work unitedly fore making mission repeat a success," he said.
Satti, while reiterating that every party worker, right from the grassroots level, would be given due importance and respect, said organisational matters should be discussed within the party forum. As state assembly elections are few months away thus Satti's work will be crucial. Amidst the infighting in the BJP as faction of it has already formed a separate party and many BJP leaders has already joined them are making his work tougher.