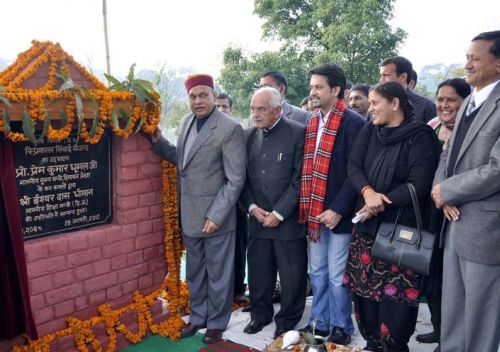 Chief Minister Prem Kumar Dhumal said that State Government would provide water storage tank in each household in the State at a cost of Rs. 58,800 to strengthen irrigation and non-consumption water facilities network in the State. He said it in a public meeting at Jhinjkari in district Hamirpur, after dedicating sprinkler irrigation scheme, constructed at a cost of Rs. 31.61 lakh to the farmers of the area to irrigate 27 hectres of farm land in the area, today.
Chief Minister said that the State was poised to emerge a role model in farm sector with the implementation of various schemes aimed at modernization of the farming activities and providing adequate water efficient irrigation facilities to meet the demand of the farmers. He said that the state government was also constructing check dams to store rain water besides motivating people to adopt rain water harvesting with their housing plans so that every household had adequate drinking and irrigation facilities to meet their demand.
Dhumal said that the state government was strengthening the agriculture sector and appealed to the farming community to diversify their traditional cropping practices by adopting modern modes of farming and irrigation. He said that an ambitious Rs. 353 crore pandit Deen Dayal Kisaan Baagwan Samridhi Yojna was under implementation in the State which aimed at providing farmers subsidized poly house construction and micro irrigation facilities through sprinkler and drip irrigation facilities. He appealed to the farming community to take benefit of the scheme to strengthen their economy. He said that with the adoption of modern techniques of farming farmers would be benefited in strengthening their economy and find adequate employment and self employment avenues at their door steps.
Education Minister Ishwar Dass Dhiman thanked CM for dedicating the model sprinkler irrigation scheme to the farmers of the area which was water efficient and more convenient for carrying farming activities. He also thanked for various other developmental activities which had taken place in the area.
Adarsh Kant, President, Hamirpur BJP Mandal, welcomed the Chief Minister and other dignitaries to the dedication ceremony of the model irrigation project. Anurag Thakur, MP Lok Sabha and National President, BJYM, Urmil Thakur, MLA, M.C.Parmar, Chairman, HP Ex-Servicemen Welfare Corporation, Pyare Lal Sharma, Chairman, APMC and State President, BJP KIsan Morcha, R.S. Mankotia, Chairman, Kangra Central Cooperative Bank, Sarla Sharma, Chairperson, Zila Parishad, Des Raj Sharma, President, District Hamirpjur BJP, Rajender Singh, DC, Kuldeep Sharma, SP, B.T.Negi, Chief Engineer, PWD, other senior officers and prominent people of the area were present on the occasion.