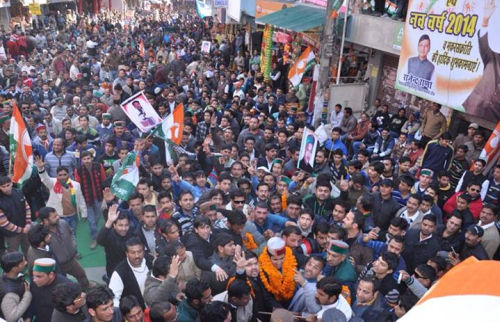 Hamirpur: Himachal Pradesh Youth Congress organised a rally ''Pole Kholo' at Hamirpur, a strong bastion of BJP and Dhumal. While addressing the youth congress activists, Youth Congress state president Vikramaditya Singh accused Dhumal and his family for levelling false and malicious accusations against Chief Minister Virbhadra Singh.
Vikramaditya stated that he and his family was not afraid of any charges, as they had committed no crimes and dared BJP to approach Lokayukta if they have any evidences.
He accused Dhumal family for initiating malicious propaganda against Virbhadra Singh. He said that whole episode was politically motivated and made clear that Youth Congress and NSUI won't allow BJP and its frontal organizations to continue with it.
Youth Congress state president, however, leveled serious corruption allegations against Prem kumar Dhumal for granting undue favour to Himachal Pradesh Cricket Association. Vikramaditya Singh clarified that his family had no personal differences or grudges with the Dhumal family, and whatever differences were there, those were due to difference in their ideologies. But the way, the Dhumals were behaving was highly undemocratic and unethical, he commented.
Vikramaditya Singh stated that, Virbhadra Singh Govt was committed for the overall development of the state. He was confidant to win all four seats in the state and the Hamirpur constituency would be on the top priority and he would embark on 'padyatras' to meet the people and solve their grievances with help of the state government and the district administration.
NSUI state president Yadupati Thakur, former NSUI chief Atul Sharma and HP forest corporation vice-chairman Kewal Singh Pathania, along with thousands of activists of Himachal Pradesh Youth Congress and National Students' Union of India (NSUI) were also present at the rally.