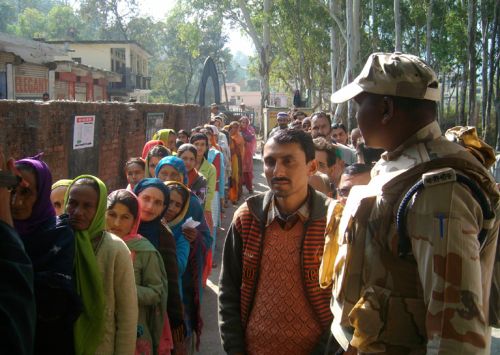 Chief Electoral Officer Narinder Chauhan told that 80.66 percent voters cast their votes in Nalagarh assembly constituency and 73.99 percent in Renuka assembly constituency. In Nalagarh assembly constituency 53854 votes have been polled while in Renuka assembly constituency 38620 votes were polled. Polling went peacefully and no untoward incident has been reported till 5.00 pm from any part of these constituencies. Polling started at a dull note in early hours and picked up gradually.
In Nalagarh constituency the polling percentage in Dhana was 93 percent, in Rampur-II was 81 percent, in Saur 85 percent, in Bruna-I 88.56 percent and in Bruna-II 87.47 percent.
In Renuka assembly constituency 79 percent polling has been reported in Koti Dhiman, 73 percent in Rjhana and 78 percent in Kharotiyon. Chauhan said that all 172 polling parties along with polled Electoral Voting Machines (EVMs) will reach their respective collection centers under tight security. The necessary arrangements have been made to keep polled EVMs in safe custody under tight security in the Strong Room till counting of the votes on 4th December, 2011. He said that counting of votes will start on 4th December, 2011 at 8.00 a.m. under the supervision of Election Observers appointed by Election Commission of India.