Shimla: In order to enable the people to get easy approvals for their building plans, the Cabinet approved delegating powers of Director Town and Country Planning department (TCP) to the Executive officers or Panchayat secretaries of the 20 Nagar Panchayats which were governed by sub rules of Urban development department till date.
These urban local bodies include Nagar Panchayats Sunni, Kotkhai, Jubbal, Arki, Rajgarh, Shri Naina Devi Ji, Daulatpur, Santoshgarh, Tahliwal, Kangra, Nurpur, Nagrota, Dehra, Jwalamukhi, Jawali, Chowari, Sarkaghat, Riwalsar, Karsog and Banjar. The people of these urban local bodies will now get all the approvals and clearances through single window system and will not have to apply to (TCP).
The Cabinet approved setting up of Rs. 748.30 lakh Regional-cum-Facilitation Centre (RFC) of National Medicinal Plants Board, Ministry of AYUSH, Government of India at Jogindernagar in district Mandi along-with requisite staff for running the Centre. The Centre will be provided annual grant of Rs. 149.60 lakh. The aim of the setting up of this centre is to provide inputs for conservation, cultivation, technology up-gradation, sale of medicinal plants, training and research, development of region specific quality planting material etc.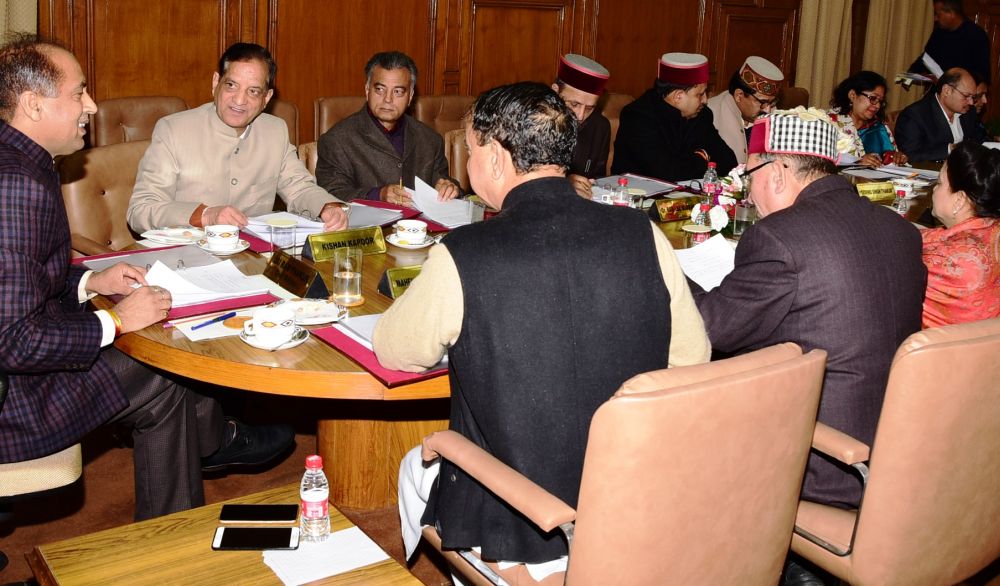 The Cabinet also accorded approval for the demands for the supplementary grants for the year 2017-18.
It decided to upgrade Community Health Centre Bhawarna in district Kangra to 50 bed Civil Hospital along-with creation of 20 posts of various categories in the hospital. The Cabinet gave approval to upgrade Primary Health Centre Balichowki in Mandi district to Community Health Centre.
The Cabinet decided to open Sub Treasury office at Shahpur in district Kangra along-with creation of five posts of various categories in Accounts and Lotteries Department. It also gave its approval to open fire post at Patli Kuhl in Kullu district.
Cabinet discusses to recognize Himachali regional language films
The Cabinet also discussed the issue pertaining to provide recognition to Himachali regional language films and consider a possible solution for Himachali film makers, who make their films in regional language and dialects, so that they could be recognized for awards for such films at National level.