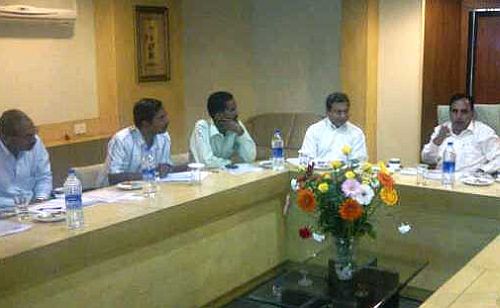 Experts from Horticulture Training Centre Pune will train Himachali Farmers with latest technology, farming skill and practices that is being adopted in developed countries to increase farm production and improve quality of fruits and vegetables in the hilly regions. Horticulture Minister Narinder Bragta announced it after a meeting with experts of Horticulture Training Centre at Pune. Detailed discussions were held with the experts regarding the viability of alternative cropping pattern and measures to strengthen the research activities so as to boost the fruit production in the State and improve its quality so as to compete in National and International markets.
Narinder Bragta said that farm experts from the centre would visit the Shimla soon to hold discussions with farm experts, horticulturists and scientists working in Himachal Pradesh and discuss various issues relating to the farm practices and also discuss the plans to set up extension centre at Pune for sharing the knowledge and other exchange programmes with Himachal Pradesh Government.
Horticulture Minister said that so far around 500 scientists and horticulturists have been trained by the centre so far under various exchange programmes and added that more emphasis would be laid to train the manpower in near future. He said that so far 10375 poly houses had been set up in the State covering 20 lakhs 72 thousand sq kilometers area and subsidy worth rupees 86 crore had been provided to the farmers for setting up the poly houses in the State.