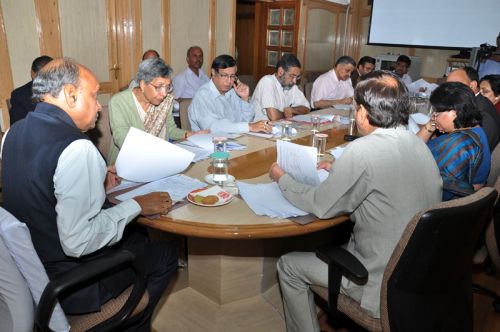 In the meeting Himachal Pradesh Cabinet decided to recruit 5,000 teachers of different categories in various educational institutions of the State, in fulfillment of the Budget Assurance given by Prof. Prem Kumar Dhumal, Chief Minister, in the HP Legislative Assembly, while presenting the Budget Estimates for current financial year, 2011-12. It further decided to introduce Informatics Practices as compulsory subject in the arts stream and as optional subject in other streams in the Government Senior Secondary Schools and to create 970 posts of Post Graduate Teachers to teach the subject through rationalization.
Cabinet approved to compensate the farmers of Una and adjoining districts on account of the loss caused in wheat production by high incidence of Yellow Rust on different varieties of PBW-343 and PBW-502. It decided to bring about uniformity in the salary and commission of all the 528 bus conductors (Bus Sahayaks) deployed with HRTC and JNNURM buses and provides them Rs. 2000 per month as retaining fee with 2 percent commission thereby ensuring a minimum of Rs. 3,500 to each of the bus conductors. It granted approval for filling up of 307 posts of Class IV in all the Deputy Commissioner and its subordinate offices in the State by secondment from the surplus pool.
It granted permission to fill up 15 posts of Extension Officer (Industries) on secondment basis from HP State Financial Corporation.
It decided to absorb 137 employees of closed Nahan Foundry in different departments of the State on secondment basis.
It sanctioned 7 posts of teachers and 7 posts of non-teachning staff and to fill up on contract basis except for 2 posts of peon and one post of chowkidar which will be filled up from surplus pool and the post of sweeper will be filled up by outsourcing to make the newly sanctioned Government Degree College at Haripur Dhar in district Sirmour functional.
It approved enhancement of borrowing limit of HP State Electricity Board Limited from Rs. 3000 crore to Rs. 4,000 crore.
It approved change in elevations and capacity enhancement in 23 small hydro electric projects and to charge the Free Power Royalty etc. in accordance with the Power Policy where the capacity enhancement is more than 20 percent.
Cabinet decided to allow IPPs to dispose off the power from the Project(s) after allowing royalty in the shape of free power to the State Government, in any manner they like in accordance with the provisions contained in the Electricity Act, 2003 and the rules and regulations made there under. In case of projects where capacity enhancement has already been approved, the IPP, who have already signed the Implementation Agreements with the different clause of mode of sale of power, will be at liberty to sign open access clause hereafter subject to above conditions.
It decided to sell free power share in Karchham-Wangtoo Hydro Electric Project through Power Trading Corporation till the project starts regular generation.
It granted approval to lease out State owned outdoor stadium at Nurpur for development as Cricket Stadium to the Himachal Pradesh Cricket Association for maintenance and operation activities for a period of 30 years and further granted approval to lease 1.61 hectares of land at Mohal Gumma, Tehsil Kotkhai, District Shimla of HP Youth Services and Sports Department to the Himachal Pradesh Cricket Association for development as Cricket Stadium.
It approved the Himachal Pradesh Private Educational Institutions (Regulatory Commission) Rules, 2011. Chief Minister Prof. Prem Kumar Dhumal presided over the Meeting.