Shimla – In a remarkable collaboration transcending geographical boundaries, Tapri in Himachal Pradesh is set to witness a transformative leap in agricultural practices with the introduction of cutting-edge geothermal technology from the land of ice, Iceland. The Himachal Pradesh government, recognizing the potential of sustainable solutions, has joined forces with Geotropy Iceland, a renowned Icelandic company, to establish a state-of-the-art Controlled Atmosphere (CA) Store.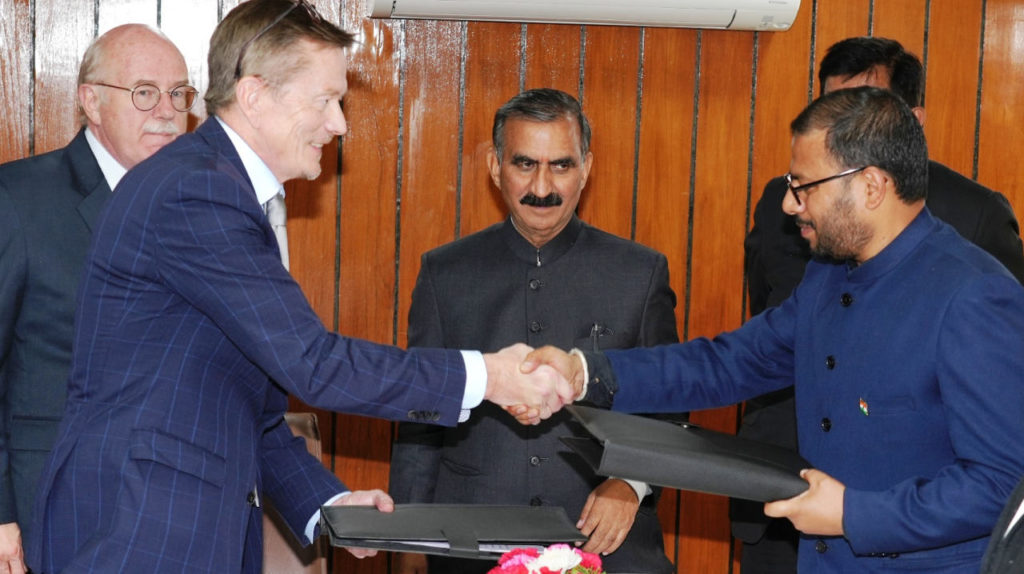 The Memorandum of Understanding (MoU) signed between the State Government and Geotropy Iceland signifies a crucial step toward leveraging Iceland's expertise in geothermal technology to enhance the agricultural landscape in Himachal Pradesh. The Rs. 8 crore project aims to construct a geothermal-powered CA Store with a storage capacity of one thousand tons, providing a significant boost to local apple growers.
Chief Minister Sukhvinder Singh Sukhu, present at the signing ceremony, highlighted the environmental benefits of geothermal energy, emphasizing its role in reducing greenhouse gas emissions. "The adoption of geothermal technology aligns with our commitment to preserving the environment and reducing carbon footprints," said Chief Minister Sukhu. He expressed confidence that this pioneering initiative would set the stage for more sustainable agricultural practices in the region.
The Chairman of Geotropy Iceland, Thomas Ottohansson, shared insights into the project's potential impact, underscoring the advantages of employing geothermal technology for the storage facility. Geothermal energy, a renewable source, not only ensures a reduced environmental footprint but also aligns with Himachal Pradesh's broader goal of embracing clean and green energy solutions.
The Rs. 8 crore investment in this geothermal-powered CA Store is poised to revolutionize the apple storage process in Tapri and beyond. With an estimated completion time of one year, the facility will serve as a model for sustainable agriculture, promoting responsible practices that balance economic growth with environmental conservation.
Looking ahead, Chief Minister Sukhu outlined plans to replicate the success of this initiative by establishing additional geothermal technology-based CA stores in the Sutlej Valley area. Furthermore, he directed authorities to explore the potential of utilizing geothermal technology for electricity generation in the state, marking a forward-thinking approach to sustainable development.