Recent unseasonal snowfall in many parts of Shimla and Kinnaur districts has left apple growers in a state of worry as the weather takes a toll on the apple crop. At this time, most of the apple plants are in full bloom, and the sudden drop in temperature and snowfall is affecting the apple fruit setting, leaving thousands of apple growers anxious about their cash crop.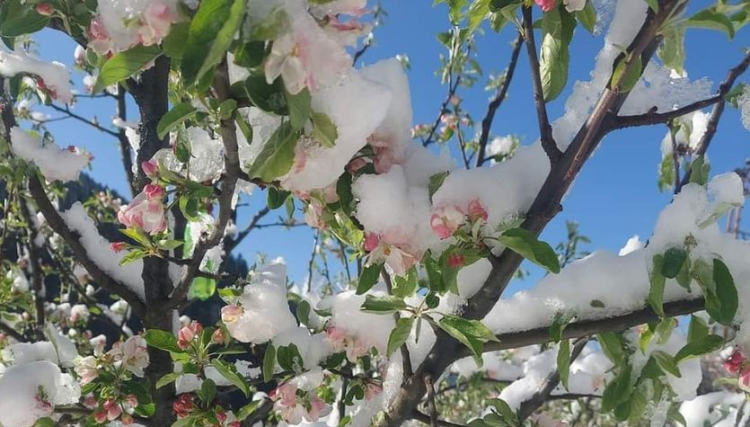 As per a concerned apple grower, "Given the increasingly erratic and extreme weather patterns and the heavy reliance of apple cultivation on favourable climate conditions, the sustainability of apple farming may be at risk in the future."
The heavy rainfall and snowfall in higher reaches over the past three days have caused damage to plants and crops in several apple-growing areas up to 9,000 feet, including areas in Kotkhai (Baghi) tehsil, Jubbal (Chunjar) and Rohru (Khadrala, Janglaik) in Shimla district and Bhaba valley in Kinnaur.
In the past week, rainfall in Shimla and Kinnaur has been 393 per cent and 344 per cent higher than normal, respectively, indicating the severity of the situation. Apple growers are now staring at hard times if the inclement weather continues. They suffer losses due to hailstones and now snowfall damaging the apple plants.
The situation has raised concerns over the future of apple cultivation in the region, and it is crucial for the government and policymakers to take the necessary steps to support and safeguard the livelihoods of the apple growers.