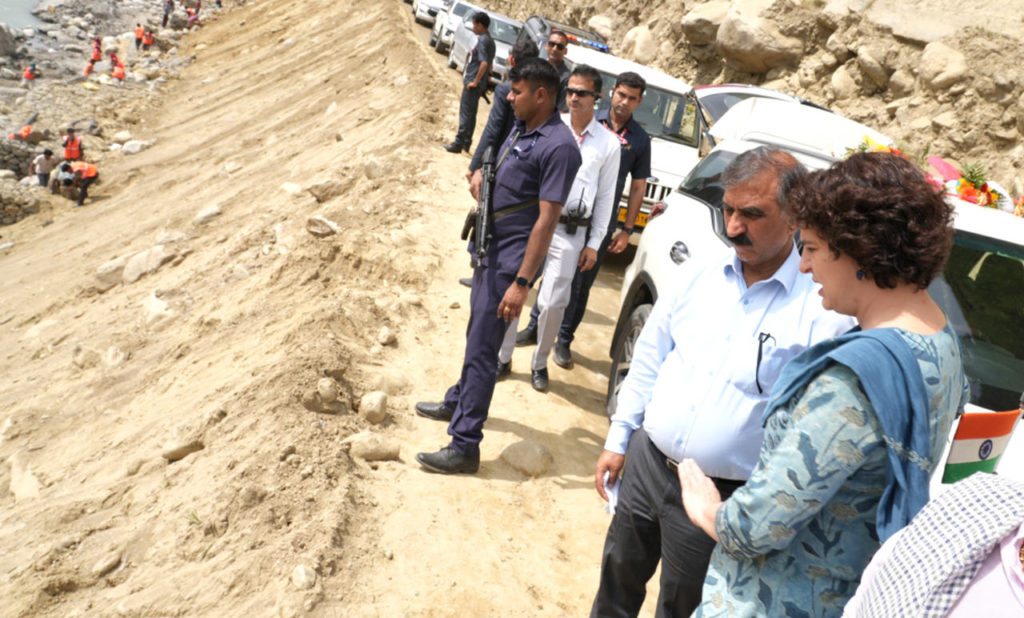 Manali – In a show of solidarity and support for the flood-ravaged regions of Himachal Pradesh, Priyanka Gandhi, the General Secretary of the Indian National Congress, visited the calamity-stricken areas of the Kullu district.
Accompanied by the Chief Minister, Priyanka Gandhi surveyed the devastation caused by torrential rains and subsequent floods, visiting critical locations such as Sangam Bridge at the confluence of River Parvati and Beas in Bhuntar and the severely affected Potato ground in Manali.
During her visit, Priyanka Gandhi interacted with disaster-affected residents, who shared their hardships and praised the State Government's prompt response to provide relief to those in need. The General Secretary commended the dedicated efforts of Chief Minister Sukhu and his cabinet colleagues, who tirelessly supervised relief and rescue operations, working tirelessly day and night.
Expressing her admiration for the people of Himachal Pradesh, Priyanka Gandhi noted the remarkable unity demonstrated by the community during these challenging times. She applauded their voluntary contributions to the Aapda Rahat Kosh, highlighting their exemplary spirit of solidarity.
However, Priyanka Gandhi stressed that despite the State Government's commendable efforts within its resource constraints, restoring normalcy and reconstruction efforts, along with providing assistance to affected individuals, would remain challenging without support from the Union Government.
In a passionate plea, she called upon the Central Government to prioritize humanitarian concerns over political affiliations. Priyanka Gandhi urged the government to declare this calamity a 'National Disaster' and to swiftly extend assistance to the affected areas. She also raised concerns about the plight of Himachal's farmers and horticulturists who have suffered significant losses, appealing to the Central leadership to consider their welfare.
Chief Minister Sukhvinder Singh Sukhu, who had previously raised the issue with Prime Minister Narendra Modi during a recent visit to Delhi, reiterated his plea for 'National Disaster' status. He emphasized that Union Minister Nitin Gadkari had also personally assessed the flood-hit regions.
The Chief Minister disclosed that damage claims totalling Rs. 8,000 crore had been submitted by August 10, 2023. Additionally, a second wave of heavy rains between August 10th and 14th had further exacerbated the situation, resulting in losses estimated at approximately Rs. 12,000 crore.