Shimla: Rajeev Bindal, the newly appointed Bharatiya Janata Party (BJP) state president of Himachal Pradesh, took charge of his office on Monday. Bindal, who started his second innings as party chief, expressed his confidence in working together with senior leaders and party workers to ensure success in the upcoming elections, including the Shimla Municipal Corporation (SMC) polls.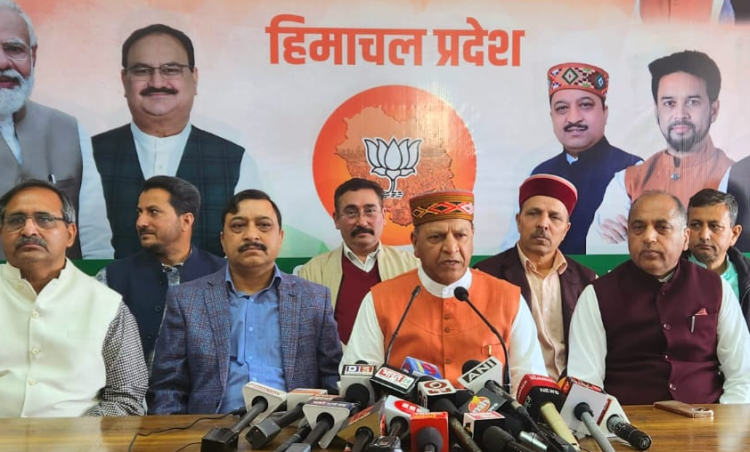 At the party headquarters in Shimla, Bindal was greeted by a turnout of party leaders and workers, including former Chief Minister Jai Ram Thakur and outgoing party chief Suresh Kashyap. Bindal extended his gratitude to the central leadership, including Prime Minister Narendra Modi, Home Minister Amit Shah, BJP President J.P. Nadda, among others, for entrusting him with this responsibility.
During his address, Bindal emphasized that the party's strategy for the Shimla Municipal Corporation polls had already been chalked out by Kashyap, Jai Ram Thakur, and others. He assured party workers that he would work alongside them in the seven wards allotted to him.
Bindal also spoke about the upcoming 2024 Lok Sabha polls and expressed his confidence in repeating the party's impressive performance in the 2019 Lok Sabha polls. He stated that they would highlight the negative approach of the Congress regime and take the achievements of the Modi and Jai Ram regimes to the people.
Bindal further dismissed the apprehension that changing the party chief in the run-up to the SMC polls would affect the BJP's poll prospects. He thanked every leader, including former CMs Shanta Kumar, PK Dhumal, Anurag Thakur, Pawan Thakur, and each party worker for their support and faith in him.