Solan: BJP has stepped up its campaign in Solan Municipal Corporation (MC). Former Speaker Rajeev Bindal, who is also Party in-charge of Solan MC Elections, campaigning aggressively in the city and ensuring to reach out to the electorates directly.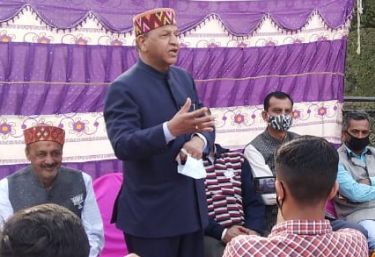 Bindal on Tuesday campaigned in Ward No 8 and sought votes for BJP candidate Pawan Gupta. In a public meeting at the Ward, Rajeev Bindal claimed that the BJP knew the pain of the people of Solan and have their decisive support.
Hitting out at the Congress, Rajeev Bindal accused it of stalling the development of the city. Commenting on the up-gradation of Solan to MC, the former speaker said "Congress had only shown Solan a dream of the Municipal Corporation, however, the BJP has actually fulfilled it."
Hoping to form BJP supported Municipal Corporation, Bindal assured supporters that the Solan regions will be benefited from the triple engine governance.
Solan Municipal Corporation elections have become a battle of prestige for the BJP and particularly for Rajeev Bindal, while Congress is trying to extend its winning streak in the city as Congress had won the Solan assembly seat since 2012.
Trying to gain from his old association with the city, as he had won three assembly elections from Solan seat and earlier represented the Solan Nagar Parishad before elected to the state assembly, Bindal knew the city inside-out and well verse with the problem of the denizens. Bindal, who is known for his political management skills, has camped in the city since the declaration of the poll and evidently, party candidates are to be benefited from his presence.