Giving rest to all speculations, former BJP state president and three-time Hamirpur parliamentarian Suresh Chandel has today joined the Indian National Congress.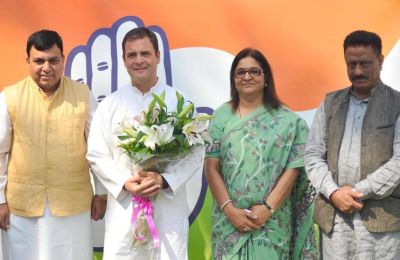 Suresh Chandel joined the Congress in the presence of AICC president Rahul Gandhi and party in-charge for Himachal Rajni Patil.
Chandel belongs from Bilaspur district, was also a ticket aspirant from Hamirpur parliamentary segment. Chandel switched sides after being unhappy with the BJP for ignoring him. His joining the Congress is a major setback to the BJP as he is a familiar face in the area.
A former strong saffron leader had represented Hamirpur Parliamentary segment in 12th, 13th and 14th Lok Sabha, but had to vacate the seat after notorious cash for question scam. He was also a BJP president and hold many key post of the saffron outfit.
Grand old party is in search for reviving it prospect in Hamirpur segment, a strong BJP bastion, as party has failed to register win from last two and half decades.