Himachal Pradesh Chief Minister Shri Jai Ram Thakur has hailed the BJP manifesto- "Sankalpit Bharat- Shashakt Bharat" launched today by Prime Minister Narendra Modi for the Lok Sabha elections.
Thakur termed it as a manifesto which envisages a new and developed India and fulfils the sentiments of the 130 crore people of the Nation.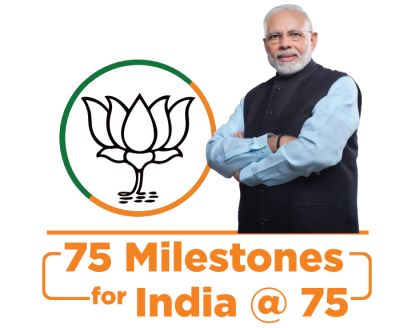 He said the manifesto clearly reflects the commitment of building a new India which would emerge as the leading nation of the world in next five years. He said that it is historic that Interest-free Kisan credit card loans, short term agricultural loans up to Rs. 1 lakh would be given at zero per cent interest, for one to five years, which would go a long way in doubling the farmer's income by 2022.
Jai Ram Thakur said that the promises to bring all farmers under the ambit of Kisan Samman Nidhi scheme and providing pension to all small and marginal farmers aged above 60 years of age are also appreciable. He said establishment of National Trader's Welfare Board has also been announced which will prove to be a boon to the businessmen. Likewise, the Sankalp Patra also speaks about expanding the Pradhan Mantri Shram Yogi Maandhan scheme to cover all small shopkeepers, which is another welcome step.
The Chief Minister said that the BJP manifesto also lays special thrust on development of the rural economy and rural areas of the country. The decision to spend Rs. 25 lakh crore on strengthening the basic infrastructure in rural areas in next five years would not only ensure ample employment opportunities but will also help in the growth of rural economy.
He said that with opening of 70 new medical colleges, the common people would get better health services and the party has also promised a pucca house for every family living in temporary houses or without any home by 2022.
However, Congress veteran Virbhadra Singh has ridiculed the manifesto. Singh, in his press statement, stated The opposition today shredded the BJP's manifesto for the national election that made a string of promises, including scrapping a law for special rights to residents of Jammu and Kashmir and doubling farmers' income by next year.
Virbhadra Singh said the BJP has "simply copy pasted" its 2014 poll document and changed all previous deadlines. Virbhadra blamed BJP for falling to complete its earlier poll promises. He said that BJP Govt has failed to check corruption and getting black money back in the country. Accusing the BJP for cheating the state of Himachal on the promises of National Highways, six times CM blamed BJP for failing to clear these roads.