Shimla: The Chief Minister presented first and final batch of the Supplementary Demand for Grants for the year 2018-19. The Supplementary Demand for Grants amounting to Rs. 3142.65 crore.
The Chief Minister said that Rs. 2021.69 crore is under Non-Plan Schemes, Rs. 671.26 crore under the Plan and Rs. 449.70 crore under the Centrally Sponsored Schemes.
Under the Non-Plan Expenditure, a sum of Rs. 1438.70 crore has been provided for repayment of Ways & Means Advance, about Rs. 144 crore for payment of energy charges of Shimla Jal Prabandhan Nigam Limited and for payment of enhanced compensation for land acquisition, Rs. 98 crore 91 lakh for tariff subsidy to domestic consumers of electricity etc., Rs. 73.97 crore for beautification of religious places and acquisition of land for development of parking lots.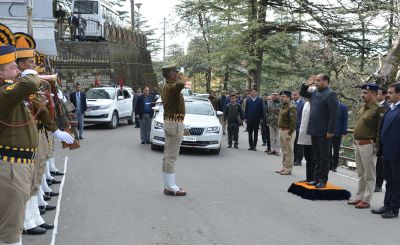 Rs. 60.96 crore is being sought as additional Grant-in-Aid to HRTC, Rs. 31.16 crore for construction of various roads and payment of compensation in compliance of Court orders, Rs. 29.50 crore for social security and welfare, Rs. 17.40 crore for expenditure on welfare schemes of the Government and Rs. 15.23 crore for construction of reservoirs under Jal Se Krishi Ko Bal Scheme and for payment of compensation.
Rs. 18.98 crore is for clearance of pending liabilities of previous Vidhan Sabha elections and to incur the expenditure on coming Lok Sabha Elections.
For installation of Grid connected rooftop solar plants on Government buildings in Shimla Rs. 226 crore has been proposed under the Plan Schemes is Rs. 226 crore to H.P. Power Transmission Corporation.
Rs. 110.55 crore for completion of construction work of Urban and Rural Water Supply schemes and replacement of pumps of various lift irrigation schemes, Rs. 101.49 crore for construction of buildings and roads.
Kaushal Vikas Nigam proposed Rs. 46.4 crore, Rs. 29.98 crore for Asian Development Bank funded Tourism Project and for conducting pre-feasibility study by Airport Authority of India for construction of International Standard Airport at Mandi.
Rs. 26.70 crore for major works of Tribal Development Department, Rs. 25.53 crore for construction of buildings of schools/colleges, State Library and green cover of Central University, Rs. 22.21 crore for major works under Decentralized Planning and Vidhayak Kshetra Vikas Nidhi, Rs. 17.59 crore for liability of Horticulture University Nauni and Rs. 12.27 crore for construction work of Judicial Academy Ghandal and New Court Complex at Amb, District Una etc
Rs. 33.66 crore for construction of AIIMS Bilaspur, construction of Super Specialty Block Phase III in IGMC at Chamyana and construction of hostel building at Medical College Tanda.
Under Centrally Sponsored Schemes Rs. 91.94 crore has been proposed for Flood Management Programme, Rs. 84.13 crore for relief works under "National Calamity Contingency Fund", Rs. 50 crore for Central Road Fund, Rs. 48 crore for Pradhan Mantri Gramin Sadak Yojna (PMGSY), Rs. 39.60 crore for Integrated Cooperative Development Projects and loan to Cooperative Societies, Rs. 39.17 crore for construction of Medical Colleges in Nahan, Hamirpur, Chamba and Ner Chowk, Rs. 30.78 crore for Poshan Abhiyan, Rs. 20.55 crore for National Livestock Mission, Rs. 10.20 crore for Sarv Shiksha Abhiyan and Rs. 4.92 crore for National Rural Drinking Water Programme.