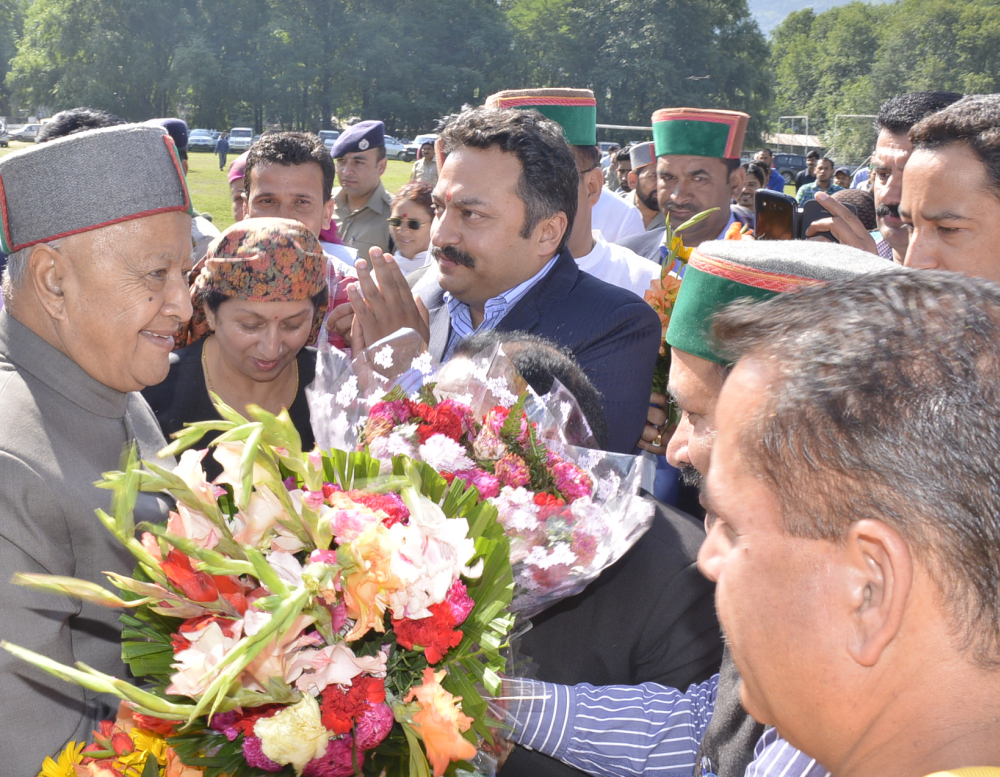 Tikkar/Shimla: Chief Minister Virbhadra Singh today announced opening of a degree college at Tikkar in Nawar valley of Rohru tehsil in Shimla district which would be made functional from next academic session.
The Chief Minister, while addressing a public meeting at Tikkar, exhorted people to encourage their children for taking admissions in colleges being opened in rural areas. He assured to provide every possible facility at the college to ensure quality education.
Earlier, the Chief Minister laid foundation stone of additional building of GSSS Badshal in Dharara gram panchayat which will have cost Rs. 22.11 lakh and will art, craft, cultural and computer room besides facility of library and science lab.
The Chief Minister also announced opening of a gas agency at Tikkar.
He also laid foundation stones of veterinary dispensary building at village Samra which will be completed by spending Rs. 13.50 lakh and lift water supply scheme for Samra panchayat to be completed at a cost of Rs. 80 lakh.
He laid foundation stone of community health centre building at Tikkar to cost Rs 50 lakh, additional building of GSSS Tikaar to cost Rs 16 lakh, and performed bhoomi poojan of up-gradation of Rs. 4.01 crore Deoli-Khalai-Dhari Kuppar road, Rs. 5.82 crore Deoli-Ghasani-Khalger road and Rs. 5.45 crore Ghanasidhar-Kadiwan-Ghasani road in Nawar valley.
He also inaugurated link road to Dhanoti village which has been completed with an outlay of Rs. 5.12 crore.
Chief Parliamentary Secretary and local MLA Rohit Thakur listed the development of the area to the successive congress governments under the leadership of Virbhadra Singh. He said he was committed to connect every panachayat headquarter with metaled roads in future.
Vice-Chairman, HIMUDA Yashwant Chhajta, Vice-Chairman HPTDC Harish Janaratha, Chairman APMC Shimla and Kinnaur Mahender Stan, Deputy Commissioner Dinesh Malhotra, SP D.W Negi and prominent persons of the area were present on the occasion.