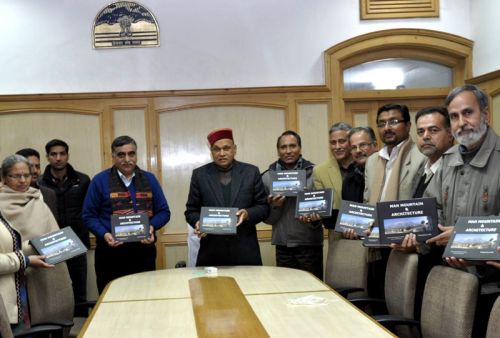 Chief Minister Prem Kumar Dhumal released a book titled 'Man Mountain and Architecture', foot prints on hills, brought out by the office of the Architect-in-Chief, Himachal Pradesh, under the guidance of Vishwakarama Awardee Ar. Vijay Uppal, Architect-in-Chief. The book contains photographs and architectural details of the important buildings all over the State designed by the Architectural wing of the State. The book exhibits best of the architectural monuments created by the department.
Chief Minister lauded the efforts in bringing out the book. He said that Himachal being a hilly state required different architectural para-meters to create infrastructure varying from place to place keeping in view the climatic conditions of the area specific. He said that undoubtedly the architects of the State had been successful in incorporating ethnic traditional hilly architect with modern designs to construct buildings, bridges and other structures in the State. He underlined the need for designing future buildings which were eco-friendly, energy efficient solar passive, naturally lighted, earthquake resistant, cost effective and suitable to local climatic and traditional designs besides adding provisions of rain water harvesting into all such structural plans.
Vijay Uppal, Architect-in-Chief, thanked the Chief Minister, for releasing the book and briefed him of the contents of the same. Dr. Arun Sharma, Principal Private Secretary to the Chief Minister, senior officers of the office of Architect-in-Chief office were present on the occasion.