Master plan must for all major river basins, Govt to punish contractor for using substandard material in construction
Shimla: Chief Minister Jai Ram Thakur said the state government is contemplating to have resident engineer for all major complexes of the state for maintenance of buildings and other infrastructure most likely through outsource basis. He was speaking after launching the Facebook and Twitter for Quality Control Cell of the Chief Minister's Office here today. The Quality Control Team also made major recommendations for ensuring proper construction of various developmental projects in the State.
The Chief Minister said that land use plan and master plan needed to be prepared for construction of all the major projects. He said appropriate arrangements should be made for storm water drains, cables, piping because lack of these lead to sub-soil moisture, frequent disruption and haphazard construction etc.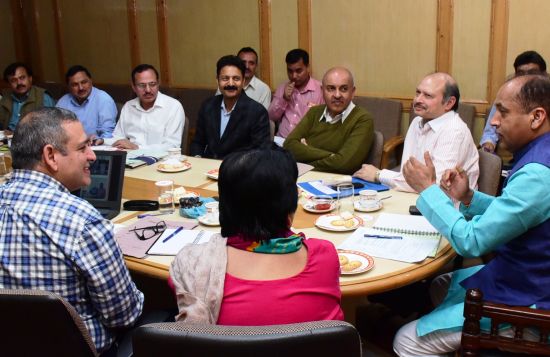 He said that proper stabilization of roads must be ensured as improper sub-soil stabilization leads to oozing of water and damage to the roads and lack of slope stabilization also lead to frequent landslides resulting in erosion of black top. Thus effective steps should be taken for construction and maintenance of proper cross drainage and side drainage, he added.
Jai Ram Thakur said that during mettaling of roads, best quality of aggregate and sand should be used and quality of bitumen must also be ensured. The bridges should be constructed with reference to hydrology and road test of bridges should be done by the constructors before handing over the same to the government. He said that instruments must be installed on bridges for quality check and risk assessment of bridges.
He said that master plan must be developed for all four major river basins viz. Satluj basin, Beas basin, Ravi basin and Yamuna basin etc. for taking care of all the four components including irrigation, flood control, drinking water and sanitation.
Jai Ram Thakur said that civil and mechanical constructions undertaken by Irrigation and Public Health Department and State Electricity Board Ltd. should also be put to rigorous quality checks so that the projects could last long. He said the government would take strict action against the contractors found using poor and substandard material in construction of various developmental projects.
The Chief Minister said that Facebook and Twitter for Quality Control Cell would facilitate the general public to directly forward their complaints regarding any substandard construction works to the Chief Minister's Office.
Additional Principal Secretary to the Chief Minister Sanjay Kundu made a presentation on the visit carried out by the Quality Control Team of the Chief Minister's Office to Bilaspur, Mandi, Kangra and Hamirpur districts. He said it was found during the visit to these districts that quite few construction projects were being constructed without development of project area. Moreover, it was also found that parking in the government buildings were not adequately planned to meet future requirements.  He said that it was felt that lack of camber on roads leads to water congestion which was ultimately damaging the roads.
Kundu said that the Quality Control Team would visit Solan on 24, Baddi on 25, Nalagarh on 26, Una on 27 and Amb/Chintpurni on 28 September, 2018 to inspect various infrastructural projects in these areas.
Additional Chief Secretaries Dr. Shrikant Baldi, Manisha Nanda and Tarun Kapoor, Secretary Irrigation and Public Health Devesh Kumar, Managing Director, HPSEBL J.P. Kalta, Engineer-in-Chief, PWD Quality Control C.P. Verma, Engineer-in-Chief, Irrigation and Public Health  Anil Bahri  were also present on the occasion among others.