Shimla: Union Minister of Electronics and Information and Technology and Law and Justice Ravi Shankar Prasad and Chief Minister Jai Ram Thakur laid foundation stone of Incubation Centre of Software Technology Parks of India (STPI) here today.
The Incubation Centre would be setup at Mehli near Shimla.
The Park would be developed with incubation facility with approximate built up area of 14000 sq ft with Rs 10 crore tentative budget. The park is expected to accommodate about 15 to 20 startups and supposed to provide employment to 300 to 400 IT professionals.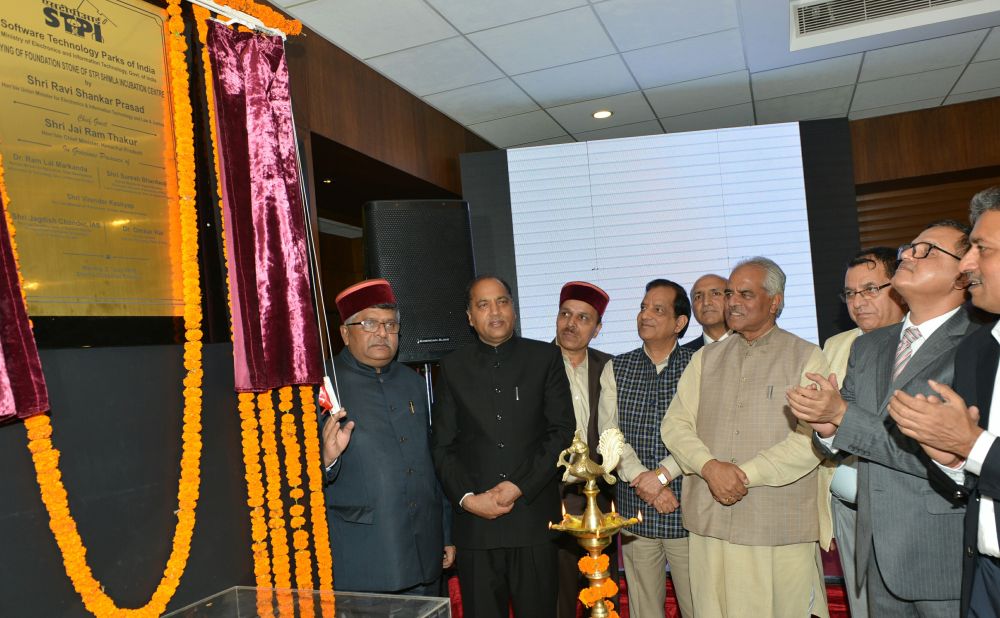 The Chief Minister said that another STPI park is proposed to be setup in Kangra district near Gaggal Airport and the land for the same has been identified. Thakur hoped that STPI Park would encourage IT entrepreneurs.
Union Minister Ravi Shankar Prasad said that STPI additional Incubation facility at Shimla would act as a resource centre for IT/ITES/ESDM units by offering general infrastructural facilities like ready to use Incubation space, High Speed Data Communication with uninterrupted data connectivity and other amenities required for export of software and services which would help to create direct and indirect employment opportunities to IT educated youth of the region. He said that this would also help in promoting the region as one of the preferred Information Technology destination of the country.
The Union Minister announced to make all the district hospitals of the State e-Hospital. He directed the NIC to immediately start work in this direction. He announced that 50 villages of the State would be made Digital Villages.
He also announced that National Institute of Electronics and Information Technology would be established in Mandi at the earliest.
Agriculture and Information Technology Minister Dr. Ram Lal Markanda, Food and Civil Supplies Minister Kishan Kapoor, Education Minister Suresh Bhardwaj, Member of Parliament Prof. Virender Kashyap, Additional Chief Secretary cum Principal Secretary to Chief Minister Dr. Shrikant Baldi, Joint Secretary Information Technology Ministry Rajiv Kumar, Principal Secretary IT Jagdish Sharma, Director General STPI Dr. Onkar Rai and Director IT Rohan Chand Thakur were also present on the occasion amongst others.