Chief Minister Jai Ram Thakur today flagged off the Heli-taxi service between Shimla-Chandigarh from Jubbarhatti Airport near Shimla. The Heli-taxi would start from Shimla at 8 am and would reach Chandigarh at 8.20 am and take-off for Shimla at 9 am, the same day.
The price of the ticket is Rs 2,999 per person inclusive of taxes. The tickets can be purchased from Pawan Hans website (www.pawanhans.co.in) Special counter has also been set-up at the airport for sale of tickets.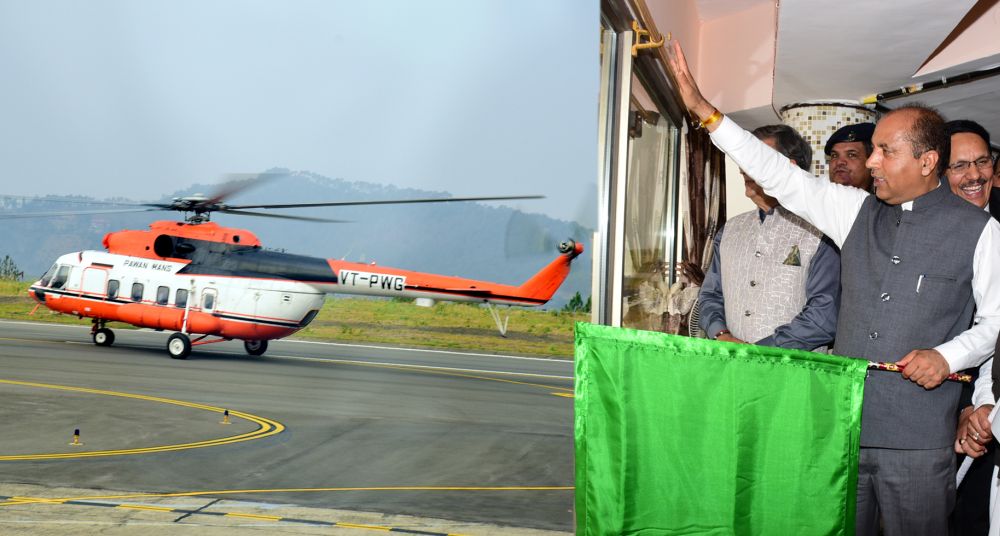 Speaking on the occasion, the Chief Minister said that providing air connectivity to far-flung areas and popular tourist destinations would boost tourism in the State. He said that in the first phase Heli-taxi service would be available for two days in a week, i.e Monday and Friday between Shimla and Chandigarh. Subsequently this service would be started to the other destinations in a phased manner, he added.
Jai Ram Thakur said that the State Government has taken an initiative by providing its Official Helicopter for this service. He said that with this the inflow of tourists to the State would increase as the Heli-taxi would provide effective air connectivity to the tourists between two popular destinations. He said that this service was a good mode to attract high end tourists in the State.
He said the Government would also introduce Heli-taxi service between Manali and Rohtang in first phase. In the second phase UDAN scheme of the Union Government would be started to connect exquisite areas of the State, he added. He said that possibility of starting Heli-taxi joy rides for Shikari Devi, Dharamshala, Chamba etc. would also be explored.
The Chief Minister said the Union Civil Aviation Ministry has informed that under UDAN-2 three airports of the State were being connected with one each helipad of Mandi, Kullu and Solan and three helipads of Shimla district for Heli-taxi service.
Later, Chief Secretary Vineet Chawdhry inaugurated the ticket counter at Chandigarh airport and also handed over tickets to passengers who were boarding the helicopter to mark the inauguration of the flight from Chandigarh-Shimla.
Indian Air Force extended water canon salute to the Pawan Hans helicopter while landing at Chandigarh.