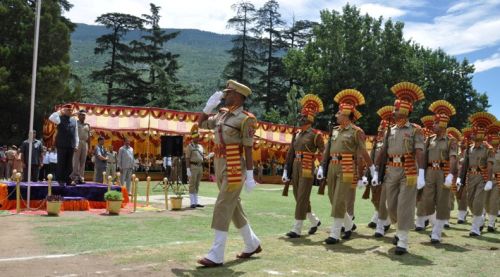 The 66th Independence Day function was celebrated with great enthusiasm throughout Himachal Pradesh today. Functions were organised at State, District and Sub-Divisional levels to mark the occasion. Impressive march-past by contingents of Police, Home Guards, NCC, ITBP and cultural programmes were main attractions of the celebrations. People in large number in their traditional attire had started to assemble the venue of functions to witness the celebration.
State-level function was organised in Kullu where Chief Minister Prem Kumar Dhumal unfurled the national flag and took salute at an impressive march-past presented by contingents of Police, NCC, Home Guards at Dhalpur Maidan, Kullu. Yogesh Raulta, DSP commanded the parade.
Felicitating the people on the occasion, Prof. Prem Kumar Dhumal reiterated his Government's resolve to accelerate pace of development in the State and make Himachal Pradesh a prosperous and self-sufficient State in the country. He also paid rich tributes to those who made supreme sacrifices for the cause of freedom and gave a clarion call to all for maintaining the hard earned freedom as well as unity and integrity of the country.
Chief Minister said that Himachal Pradesh which came into being after eight months of attaining independence had started its journey from the scratch but today it had emerged an ideal of development not only for hill areas but also for other States for which all the people of the Pradesh deserved appreciation. Seven percent D.A. to Employees and Pensioners.
Chief Minister announced release of 7 percent Dearness Allowance to the State Employees and Pensioners in the State due from January, 2012. This will put an additional burden of Rs. 350 crore on State exchequer.
He announced hike in daily wages of the daily wagers from Rs. 130 to Rs. 150 from September 1, 2012 which would provide the additional annual benefit of Rs. 7,320 to each daily wager.
He announced increase in the daily allowance of Home Guard volunteers from Rs. 200 to Rs. 225 to be effective from September 1, 2012. He said that one more Home Guard Battalion would be raised to generate employment to 600 youth.
Chief Minister announced that all constables completing 20 years of services will be designated as Honorary Head Constable; Firemen as Honorary Chief Fireman; Jail Warden as Honorary Chief Warden.
He announced enhancement in Social Security Pension from Rs. 400 to Rs. 450 per month to be effective from 1st September, 2012, which would benefit about 3 lakh beneficiaries and put additional burden of Rs. 65 crore on the State Exchequer. He further said that all eligible persons would also be sanctioned social security pension so that no eligible person remains left out.
He announced that pensioners would be charged the same rates for stay in Government Rest Houses as are being charged from the employees. He sanctioned Rs. 8crore for clearance pending medical bills of pensioners. He also announced a cash award of Rs. 31,000 to the students belonging to Himachal Pradesh admitted to IIT/IIM.
He announced an annual scholarship of Rs. 15,000 to 2,000girls ranking at top 2,000 positions in plus two examination of the Board examination in the State. He announced increase in the financial assistance from Rs. 11,000 to Rs. 21,000under Mukhya Mantri Kanyadaan Yojna for the marriage of girls of BPL families who had lost their father. He announced enhancement in financial grant under Mother Teresa Ashaya Matri Sambal Yojna from Rs. 2,000 to Rs. 3,000.
He also announced exemption in registration to small traders with annual turn over upto Rs. 8 lakh. Earlier this limit was Rs. 6 lakh. This will benefit thousands of small traders in the State. He announced 100 percent enhancement in the daily allowance of panchayati raj and urban local bodies' office bearers for attending various meetings. He said that this was also a step towards strengthening Panchayati Raj and Urbal Local Bodies institutions in the State.
Reiterating his Government resolve for improving the economy of the farmers, he announced extension of Pandit Deen Dayal Kisaan Baaagwan Samridhi Yojna for four years beyond March 31, 2013 and announced Rs.190 crore more would be spent to benefit the farmers. Chief Minister also announced providing of 50 percent subsidy on Wheat Seed and fodder to the farmers affected due to drought conditions this year. He also announced enhancement of subsidy from 55 percent to 80 percent under Horticulture Technology Mission to benefit horticulturists of the State. He announced public holiday to state employees on Parshuram Jayanti. He announced opening an University and Medical College in district Kullu in private sector.
Chief Minister announced remission of sentence to prisoners on the occasion. Those undergoing life imprisonment and had been given sentence of more than 10 years would get remission of three months, those who had got sentence of more than five years and upto 10 years would get remission of two months; those who had got sentence of more than three years and upto five years would get remission of 45 days and those who had got sentence of more than one year and upto three years would get 30 days remission and prisoners who got sentence of more than 3 months and upto one year would get remission of 15 days.
On the occasion of independence, Chief Minister conferred 'Himachal Gaurav' Award to Olympian Silver Medal Winner Shooter Subedar Vijay Kumar besides presenting a draft of cash prize of rupees one crore for winning Silver Medal in the recently concluded Olympics in London. He also presented papers of one 200 square meter HIMUDA plot at Mandhala, Baddi to Subedar Vijay Kumar as free of cost in recognition of his outstanding laurels earned to the State.
Chief Minister also conferred 'Tagore Samman' upon veteran folk singer Gambhari Devi of district Bilaspur for her outstanding contribution to preserve and promote Himachali folk art. Special Prizes were given to Special Children and their coach for their selection to participate in Special Olympics being organised in Korea in 2013.
Special Scheme Launched on the occasion
Chief Minister launched Gymnasium Scheme in all the Gram Panchayats and Nagar Panchayats in the State by presenting gymnasium equipments to five local gram panchayats in the district. Each Panchayat and Nagar Panchayat will be provided gymnasium in the State. He distributed the jute bags to ration card holders to mark the scheme to give essential commodities to every ration card holder in the bag to facilitate them. He launched Net Book(computer) distribution scheme to 4,000 meritorious students who had passed matriculation examination of HP Board of School Education (Government and Private Schools) by distributing Net Books among 10 meritorious students of district Kullu.
Chief Minister launched Atal Adarsh Gram PuruskarYojna-2012 by presenting draft of Rs. 20 lakh to the Best Panchayat Pahalu, district Hamirpur, for ranking at the top in the State; Rs. 10 lakh to Gram Panchayat Kuthehar, district Kangra for ranking a number one in Kangra Division; Rs. 10 lakh to Gram Panchayat Hatkot, district Solan, in Shimla Division; Rs. 5lakh to Gram Panchayat Chwai, district Kullu for ranking at first position in the district; Rs. 2 lakh each to Gram Panchayats Jagat Sukh, Larji, Poshna and Jarad Bhutti Colony in different blocks in district Kullu.
He also gave a cash prize of Rs. 10 lakh, memento and citation to gram panchayats ranking at first position at the State level for the year 2011 and 2012 under Mahrishi Valmiki Sampooran Swachhta Puruskar Yojna of Nirmal Bharat Abhiyan and was bagged by gram panchayat Lana Palar of district Sirmour for the year 2011 and gram panchayat Dalchehra of district Hamirpur for ranking at the top during year 2012. He presented drafts of Rs. 5 lakh to the panchayats ranking at the top at Division level; Rs. 3 lakh for panchayats ranking at number one at district level and Rs. 1.00 lakh for the panchayats ranking first at block level.
He also presented a draft of Rs. 10,000 to nine gram panchayats of district Kullu registered under Health Insurance Scheme for BPL families, where State had achieved 100 percent target by registering all BPL families in 137 gram panchayats selected for the scheme. He also honoured Best Ambulance Staff under Atal Swasthya Sewa Yojna for their exemplary service to the people. Chief Minister said that Rs. 35 crore would be spent under Backward Area Sub Plan Plan this year to accelerate the pace of development in backward areas.
Prof. Dhumal said that priority of his Government was road, education and health besides self-employment, self-sufficiency and self-respect and added that all policies and programmes initiated in the State during last four and a half years had been considerate to achieve the objective. He said that endeavours of his Government had remained that every section of the society benefited from these policies and programmes and common-man benefited first. He said that his Government had tried to abridge the gap between Government and people and people in the State today considered it their own Government.
Prof. Dhumal said that Rs. 353 crore Pandit Deen Dayal Kisan Baagwan Samridhi Yojna had been started under which people were being provided 80 percent subsidy for construction of polyhouses and minor irrigation. He said that BPL beneficiaries were being given 90 percent subsidy for construction of bamboo polyhouses. He said that 12500 polyhouses had been constructed since this scheme was launched by the present Government and 9000 hectare area had been brought under minor irrigation. He said that Rs. 321 crore Crop Diversification Scheme had been started with the assistance of JICA to promote organic farming, diversification of traditional crops and also water conservation. This scheme would also bring sea change in the economy of farmers in the State.
Prof. Dhumal said that Rs. 85 crore Apple Replantation Scheme had been started in the State to replace old apple plants with new and quality one. He said that 45,000 root stocks would be imparted for this out of which 10,000 had already been imported. He said that to ensure remunerative prices to apple growers, the support prices of apple and mango had been enhanced by 75 paise per kg.
Chief Minister said that various schemes launched by the State Government in last four and half years had benefited the all in the State irrespective of their income. These include Atal School Uniform Yojna under which two uniforms were being given to students of government schools from 1st to 10th class annually. Besides they were being given Rs. 100 each time for stitching the uniform. Under Atal Swasthya Scheme, free ambulance was being provided to all in case of serious illness and other emergencies. He said that under Matri Sewa Yojna' facility of free delivery had been allowed in government hospitals to all expectant mothers. They were also being provided free medicines during hospitalization besides free transportation facility to go home after discharge from hospitals. Not only this, mother and child were also being given free medicines for one year. He said that 38 medicines were being provided free to all BPL families in OPDs in government hospitals in the State.
Prof. Dhumal said that 16.31 lakh ration card holders were being provided three pulses, two edible oil and salt on subsidized rates every month. He said that every ration card holder had been benefited by Rs. 6324 and BPL ration card holder of Rs.10680 annually. He further added that every APL family has got benefit of Rs. 31,500 and BPL family Rs. 54000 in last four and a half years.
Prof. Dhumal said that his Government was committed to provide transparent and responsive governance to the people in the State and had taken various effective steps in this direction. He said that formulation of HP Public Services Guarantee Act was a step in this direction besides H.P. Special Courts (Attachment and Confiscation of Property) Bill 2011 had been passed which was awaiting approval. He said that provision to confiscate property amassed through corrupt means had been made and Special Courts would be set up for trial the cases speedily.
Ramesh Dhawala, Food and Civil Supplies Minister, Khimi Ram, Forest Minister, Gobind Thakur and Kishori Lal Sagar, MLAs, former MLAs, S. Roy, Chief Secretary, I.D. Bhandari, Director General of Police, Ajay Bhandari, Secretary, GAD, senior officers of the State Government, freedom fighters and prominent persons were present on the occasion among others.