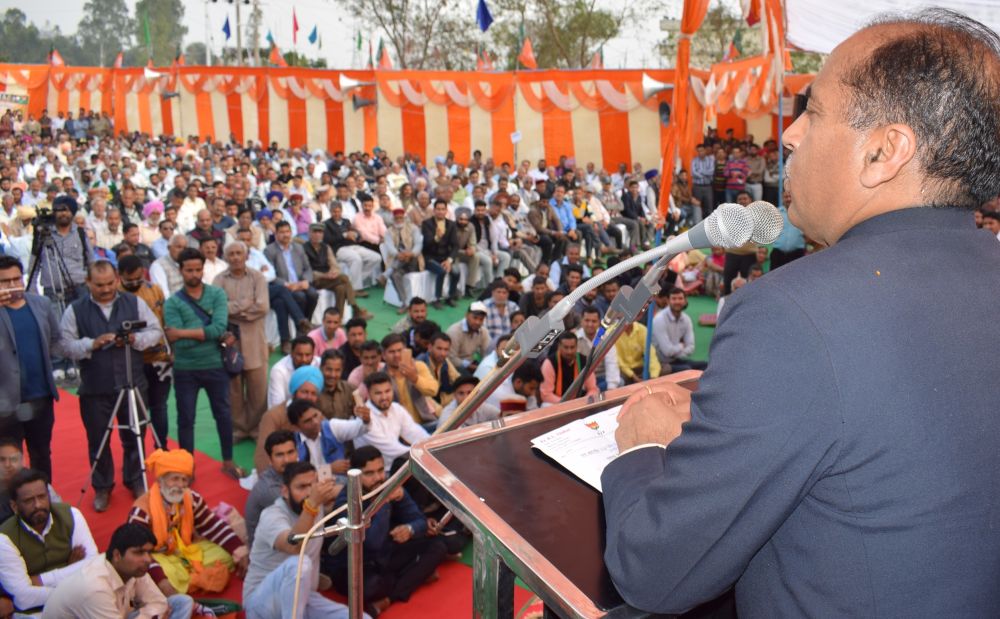 Nichla Khera/Nalagarh: Chief Minister Jai Ram Thakur directed the PWD authorities to complete the work on Nalagarh-Swarghat National Highway by 30th June, 2018.
The Chief Minister, while addressing a public meeting at Nichla Khera in Nalagarh constituency of Solan district, also directed to expedite the work on Bangana Colony to Chownkiwala Road and also for refurbishing Chownkiwala to Dherowal Road on which a sum of Rs. 5 crore would be spent.
Jairam Thaku assured to take up the demand pertaining to setting up Trauma centre with Union Health Minister alongwith a proposal in this regard to the Union Health Ministry. He assured to fulfil the vacant posts in Health institutions in the area.
He said that the government will work without any bias and with equality for all regions no matter whether the constituency was being represented by either BJP or Congress MLAs. For me the people of State were one and my government was committed to extend all the welfare services to them.
The Chief Minister said that the government had adopted zero-tolerance towards corruption and was committed to provide transparent and clean administration.
He said that the Congress leaders were eager to know what the government had done in around 54 day's and were seeking reply from the government. What have they done and blunders they have committed since post-independence. The State Congress Leadership has left the State in debt trap, he said adding that there was a debt loan of Rs 46,500 crore. Near elections, the Congress Leaders laid foundation stones of numerous projects without any budgetary provisions. He said the state during Congress regime was ruled by the retired officers, who were solely working for the former Chief Minister and not for welfare of the people of the State. This team of retired and tired persons were working for a single Congress leader only for their selfish motives, he said.
Earlier, the Chief Minister laid foundation stone of Lift drinking Water Supply Scheme at Khera Nichla, Khera Gharat and group of villages to cost Rs. 2.20 crore to facilitate a population of 3242 people of five villages of the area.
Social Justice and Empowerment Minister Rajiv Saizal also spoke on the occasion and lauded the decisions of the present government for lowering the age for social justice pension from 80 to 70 years besides initiating steps for women empowerment.