Horticulture Minister Mahender Singh Thakur directed the scientists and officers of the department to prepare nurseries as per the requirement of the particular area and the plants should be distributed to the farmers and horticulturists as per the climatic conditions.
The Minister, in a review meeting of Horticulture department today, emphasized to ensure the quality of plants to maintain the credibility of the department. He stressed on preparing nurseries of various varieties of citrus fruits which were on the verge of extinction.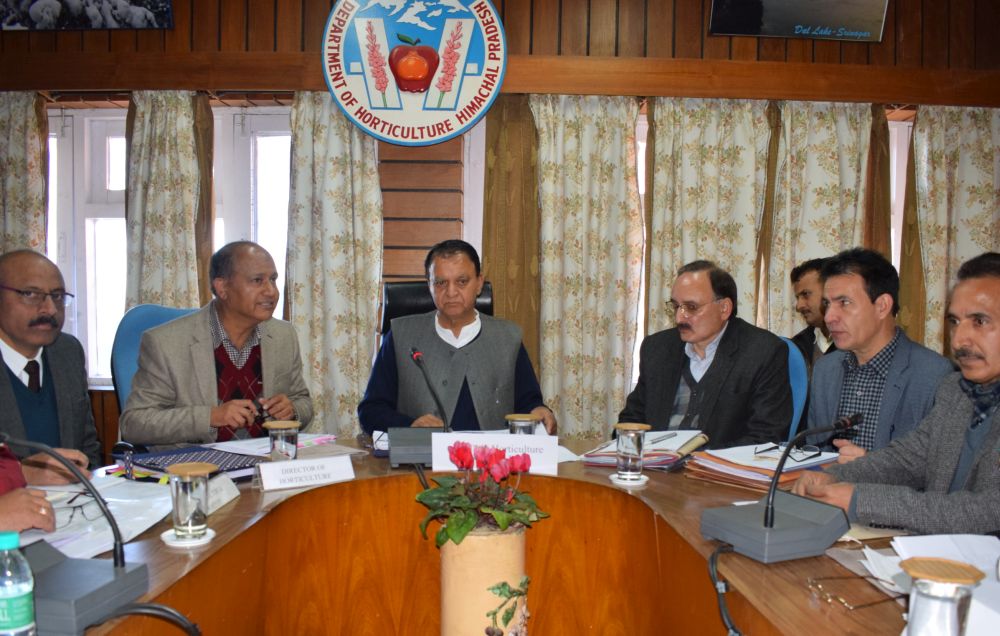 Mahender Singh Thakur said the horticulture activities should be extended to all parts of the state. He urged the scientists to make a master plan for increasing green cover of the state. He also directed the departmental officers and officials to work with full dedication and fix targets for hundred days.
The Minister directed to give priority to promoting floriculture and mushroom production as both these sectors had ample opportunities of employment.
Managing Director, HPMC Dinesh Malhotra said that HPMC was hopeful of achieving annual turnover of over 64 crore during this year. Malhotra said the state had five CA stores with storing capacity of 3380 metric tonne. Besides, cold stores facility was available at Parwanoo, Jabli, Mumbai, Delhi and Chennai.
Director, Horticulture Dr. M.S Rana informed that there were 568 registered nurseries in the state and the department would provide nine lakh plants of different varieties to the farmers during this year besides 20 lakh plants through private nurseries.