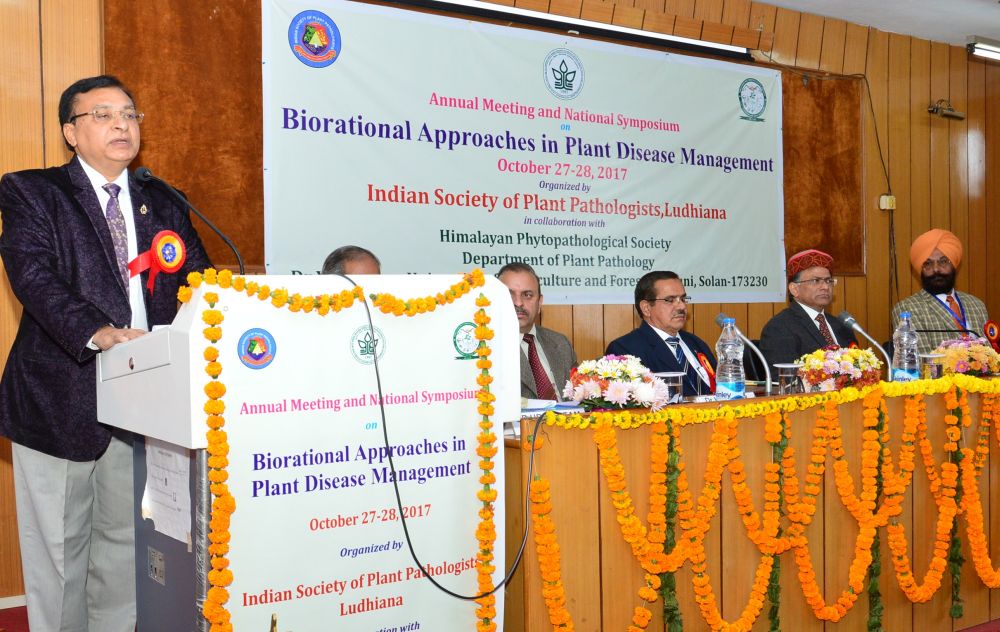 Solan: Farmers and fruit growers loses considerable crop to plant pathogens and not only particular region is affected by it, but it remains an important constraints worldwide. With a view to spread awareness, Dr YS Parmar University of Horticulture and Forestry (UHF), Nauni under the aegis of Indian Society of Plant Pathologists (INSOPP) and Himalayan Phytopathological Society organized two-day National Symposium on 'Bio-rational Approaches in Plant Diseases Management.'
Experts recommended to establish a domestic quarantine system in order to restrict diseases within different regions in the country for reducing crop losses during cropping season and after harvest.
Dr. AK Singh, Deputy Director General (Horticulture) of the Indian Council for Agricultural Research (ICAR) called for the need to educate farmers about right 'pesticide application technology' in order to avoid hazards and reduce residues in the harvest. He also urged the scientists for effective use of communication applications like WhatsApp and mobile messaging for communicating solutions to farmers' problems.
Dr PK Chakrabarty, ADG (Plant Protection), ICAR, stressed on the need for bio-security in farms to reduce the spread of pathogens. Dr. Chakrabarty advised
"There should be one entry and exit in fields and all farm equipment along with shoes should be sterilized on entering and leaving the farm. We also need to develop effective diagnostic tools for timely detection of diseases so that use of pesticides can be reduced"
Sharing alarming facts related to the loss of potential food produce in the country and he said that the country loses over 30 percent of the potential produce to pests and diseases and if this problem can be tackled, another 70 MT can be added to our existing production.
Citing the example of Indian Basmati rice exported to European countries, scientists suggested new fungicides and change in the time of their application so that the exports do not face rejections. Another area, which was discussed, was the use of botanical and bio-pesticides for the management of the diseases.
Researchers also felt for an immediate need to develop a policy in the universities for testing new fungicides, keeping in view the label claims so that data generated by these researchers can be of immediate use to the farmers and organizations are also able to sell the bio-efficacy data to private companies.
Eminent scientists and students from various parts of the country discussed environment friendly technologies of disease management and discuss strategies for its dissemination to the end user during the symposium.
Emerging issues related to diagnosis, host-parasite interaction and management of plant health problems were also deliberated. One of the major highlights of the event was the interactions between farmers, scientists and private entrepreneurs regarding disease management in apple.