Nauni/Solan: In yet another achievement, three students viz. Ridham Kakar, Kiran Thakur and Saraswati Negi of the Dr YS Parmar University of Horticulture and Forestry, Nauni have bagged the best thesis award at a National Conference held in Uttar Pradesh.
The award was presented by the GVK Society during the National Conference on 'Managing Natural Resources for Sustainable Agriculture held recently.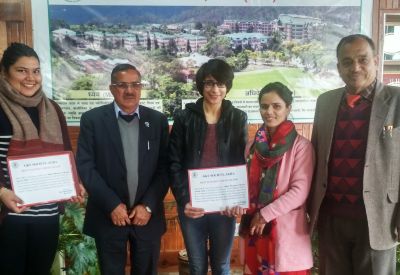 Ridham Kakar won the award for her master's research on 'Nutritional status of vegetable growing areas of Saproon valley of Himachal Pradesh, Kiran Thakur studied the 'Effect of forchlorfenuron, prohexadione-calcium and brassinolide on fruit yield, maturity and quality of apricot'. Saraswati Negi bagged the award for her thesis on 'Studies on persistence of acephate, profenofos and triazophos in okra'.
Kiran Thakur has recently completed her PhD in Fruit Science, Ridham Kakar and Saraswati Negi are pursuing their doctorate from the university in the disciplines of Soil Science and Entomology respectively.
University Vice-Chancellor, Dr HC Sharma congratulated the students and their research guides for the efforts put in the research, which has enabled them to succeed at the national level. The Deans and heads of departments also congratulated the research scholars and scientists for bringing laurels to the university.