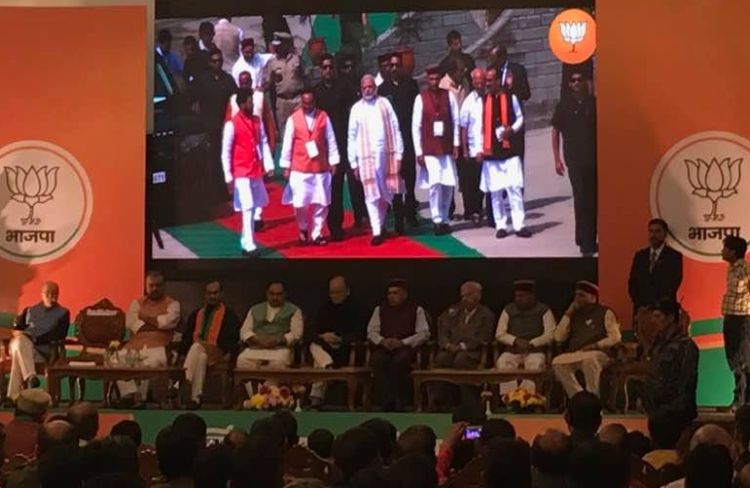 Shimla: BJP today released its Vision Document for November 9 Assembly Elections. Named as a 'Swarnim Himachal Dristi Patra' Union Finance Minister Arun Jaitley released the document.
Swarnim Himachal Dristi Patra listed to open a 24-hour Hoshiyar helpline at the CM office to curb illegal activities and a Gudia helpline at police stations for women safety. A Major Somnath Vahani, comprises of retired army personnel, will control thefts, robbery and drug abuse among students and youths, saffron outfit promises.
Party promises of employment generation by harnessing tourism potential, it also vowed to develop religious circuit – Dev Bhumi Darshan. BJP also promised to organize Annual Employment Fair in every district.
BJP poll document also focuses on health care and horticulture. Party promises to double the income of farmers by 2022.
BJP promises to provide laptops along with free wifi to the meritorious students studying in colleges and schools. Party also announced to scrap controversial Rashtriya Uchtar Shiksha Abhiyan (RUSA) system. Party also included opening coaching centers for competitive examinations at Senior Secondary Schools.
Opening of regulatory commission for keeping check on private schools is also listed in the BJP Vision Document.
Promising to set up a drug control bureau directly under the new chief minister, BJP Vision Document claims to provide interference free police functioning in the state.
BJP has also taken care of Employees of the State and promises to give benefits of 4-9-14, and promised to constitute a committee under Chief Minister to discuss the revival of pension scheme with Union Government.
Union Finance Minister, while speaking to the media, said the party will entrust the responsibility of the Chief Minister to most senior leader. However, he said it is a matter of strategy whether the BJP announces it or decides it after the elections.