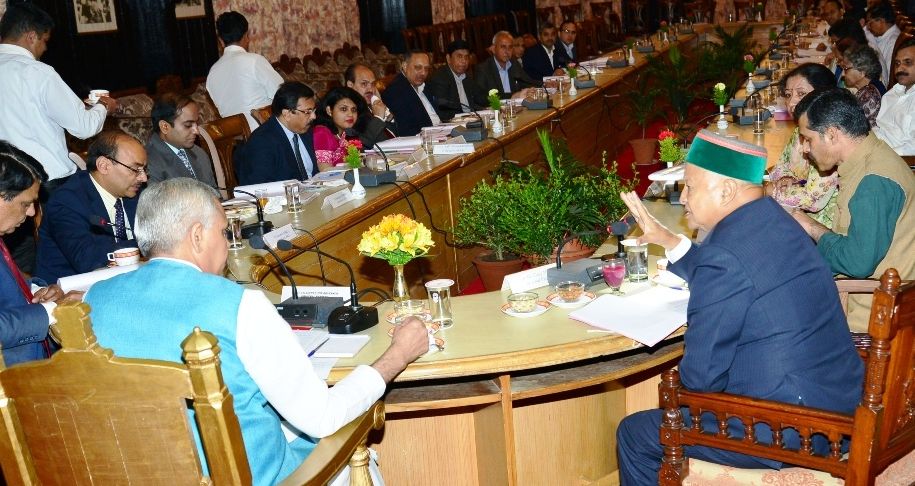 Shimla: Governor Acharya Devvrat emphasized the need to regularly monitor the Bal Ashrams and Homes being run by the State Child Welfare Council.
The Governor, in the governing body meeting of HP State Child Welfare Council at Raj Bhawan today, advised to hold a meeting of the local management committees constituted for them every three months so that they could give their important suggestions for the welfare of the children.
Taking view of the some unforeseen events in country, Acharya Devvrat said that CCTV cameras should be installed in every Ashrams and their smooth operation and supervision should be ensured regularly.
He proposed to appoint a Psychiatrist at the local committee to understand the mind-set of children. Special facilities of counseling should be provided to them and such facilities to be made in every Ashram run by the Council, he said. He added that these committees would also maintained the register and put up their suggestions in it, which should be discussed at the meeting of the council so that concrete decisions could be taken for the welfare of children living in Ashrams.
Speaking on the occasion, Chief Minister Virbhadra Singh said the government was implementing various schemes for the welfare of orphans, differently-abled children and destitute children while some schemes were being executed through the HP Child Welfare Council.
The Chief Minister said that the Council was running 42 crèches in the state for the children of age group upto 6 for working women and the State Government was also providing Gant-in-Aid to the Council for their proper functioning. He directed to implement all the schemes of the Government being run for the welfare of orphans and destitute children in an effective manner and make great efforts for their upliftment.
Virbhadra Singh said the person working as incharge of the institute like Bal Ashrams should be well trained having human touch so that he could perform his duties with more responsibility. He directed the authorities to put up concrete proposal for granting revised scale to employees of Grant-in Aid schemes.
Social Justice and Empowerment Minister, Dr.(Col.) Dhani Ram Shandil said that 29 Bal-Balika Home, one Observation Home-cum-Special Home and three Open Shelters were being run for providing food and other amenities to orphans, destitute children and specially abled children in the State.
Principal Secretary, Social Justice and Empowerment, R.D. Dhiman, Secretary Education Abhishek Jain, Secretary to Governor Rajesh Sharma, Director, Child & Women Development Mansi Sahai Thakur, Director, SC,OBC & Minority Affairs Sandeep Bhatnagar, Deputy Commissioners of various districts, HODs, Senior Officers of the State Government, official and non-official members of Child Welfare Council were also present on this occasion.