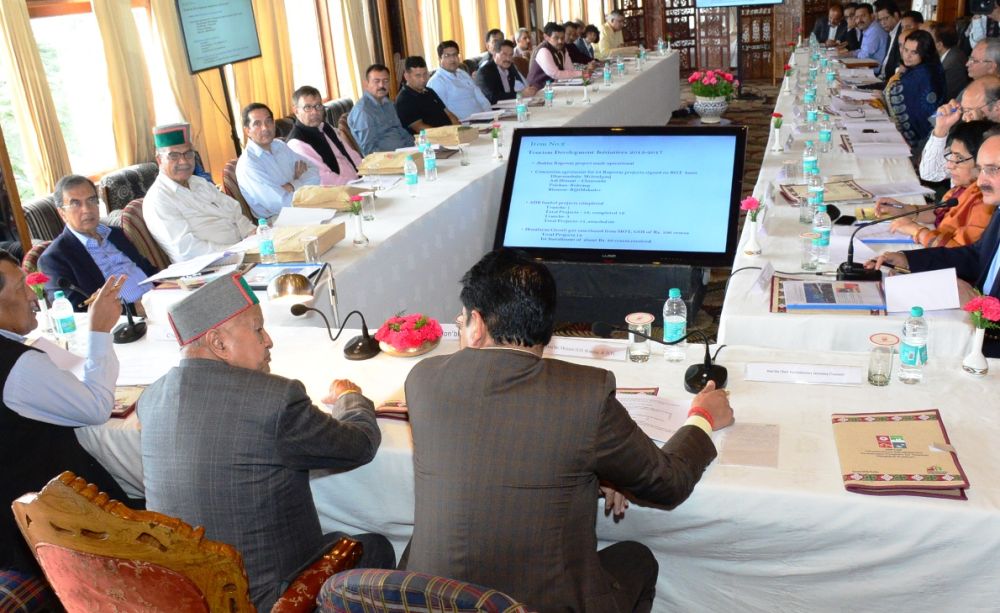 Shimla: A sum of Rs 100 crore has been sanctioned for 'Himalayan Tourist Circuit' paving way for 14 tourism related projects to be developed in the State.
The projects includes convention centre at Kiarighat in Solan district to provide all way side amenities to the visitors, 'Heliport' at Shimla to be constructed somewhere near Sanjauli- Dhalli bypass, 'Village Haat' at Kangra including beautification of Dal lake, 'free climbing' standing wall of International standard at Manali and developing water sports facilities at Suni in Shimla district.
Chief Minister Virbhadra Singh, in a meeting of Himachal Pradesh Tourism Development Board revealed that the project has also made a provision of rupees three crore for Saurav Kalia Van Vihar.
The Heliport at Shimla is coming up on a hill plateau and would also have indoor and outdoor exits besides landing facility for private choppers.
The Chief Minister said that after completion of ropeways, Himachal Pradesh would be globally choice destination for religious and adventure tourism.
It was informed that an agreements for four ropeway projects on 'Built Operate Transfer' (BOT) basis have been signed as well, which include around Rs.150 crore Dharamshala-Macleodganj, Rs. 289 crore Adi-Himani-Chamunda, Rs. 340 crore Palchaan-Rohtang and around Rs. 94 crore Bhuntar Bijli Mahadev to facilitate the adventure as well as religious tourism.
The Chief Minister was informed that the ropeway projects from Sarahan to Bashal Kanda connecting Kinnaur district, Bharmour to Bharmani Mata, Toba to Shri Naina Devi ji in Bilaspur and Shah-Talai to Deot Sidh in Hamirpur were in bidding stages.
He directed to ensure removal of hoardings and posters around Maha-Mritunjay temple in Mandi. He said that earlier the encroachments were removed and now the big hoardings and posters seem to have covered the temple, which needs to be removed.
He also directed for speeding up the process of restoration and refurbishment of Bantony Castle. Besides, a lawn and park the old building could be used as a Museum in which the history and culture of all the districts could be showcased.
The Chief Minister launched a 20 minute film on tourism circuit of Himachal Pradesh which besides adventure highlights the Buddhist and religious circuits as well.
Managing Director HPTDC Dinesh Malhotra gave presentations on ongoing projects including lightning of old Victoria Bridge in Mandi, refurbishment of Church at Ridge, renovation of ancient temples of Rampur and various other tourism projects undergoing landscaping and beautification.