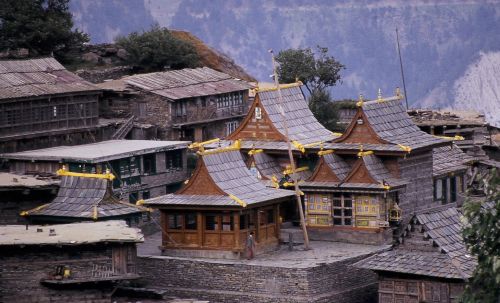 With a view to acquaint the visitors with the life style, customs, traditions and local cuisines of the Himachal villages, the Himachal Pradesh Tourism Development Corporation Limited(HPTDC) has offered 8 (eight) attractive Combi-Packages , first time, during Prime Period, especially for Har Gaon Ki Kahani Destinations in various parts of Himachal Pradesh. These Packages have been aimed to boost the rural tourism in the State by inviting tourists to visit villages having historical significance in the rural areas with much fanfare. This has been disclosed by Vineet Kumar, Manging Director today in Shimla.
1. Gan Devta & Khushala Village Mahavir Temple 2 nights/3 days (operated from Hotel Holiday Home, Shimla)
2. Khawaja Pir near Village at Beas. 2 Nights/3 Days (operated from Hotel Jawalaji, Jawalamukhi)
3. Ancient Lord Chandersekhra Temple 3 nights/ 4 days (operated from Hotel Iravati, Chamba)
4. Ancient Lord Chandrasekhra Temple 2 nights/3 days (operated from Hotel Manimahesh, Dalhousie)
5. Ancient Baniya Devi Temple 2 nights 3 days (operated from Hotel Baghal, Darlaghat)
6. Raj Mandir Nerti, Small Rural Theatre, Gar Mata Temple 3 nights 4 days (operated from Hotel Kunal Dharamshala )
7. Historical Village Sangrah 2 nights 3 days (operated from Hotel Renuka, Renukaji)
8. Shamshar Mahadev 2 nights 3 days (operated from Hotel Bushehar Regency, Rampur)
The Managing Director further said that Har Gaon Ki Kahani is the flagship project of the State Government/Himachal Tourism and the Tourism Department has already launched 'Har Gaon Ki Kahani' first volume of 12 stories from villages selecting one each from each of the 12 districts in the State. The HPTDC has designed these packages for the villages of historical and cultural importance situated nearby the existing hotels of the Corporation so that these could be operated in proper manner and tourists could enjoy the essence of the remote parts of the Himachal.