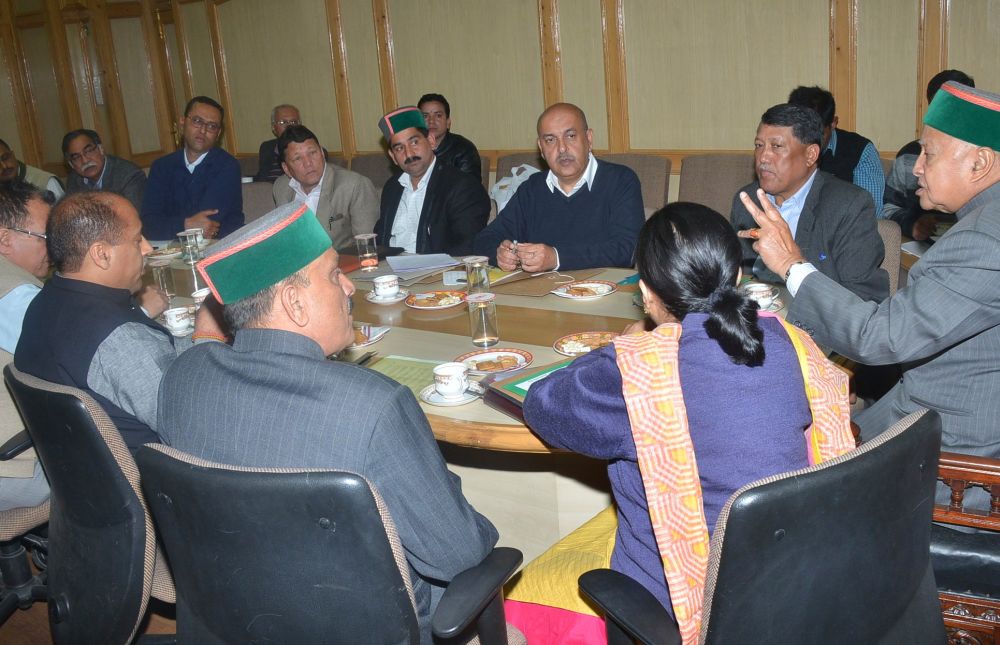 Eco Task Forces will be constituted for scientifically culling of monkeys declared as vermin in the State. As the religious sentiments prevent the people for the same, the work now would be assigned to Eco Task Forces. They will be supported by State Forest Department for scientific culling of monkeys.
Chief Minister Virbhadra Singh, in a High Powered Committee meeting for Wild Animal and Monkey Menace, today, acknowledged that monkey menace had proved to be a bane for the people of the state and it was needed to focus on areas where concentration of monkeys was more.
He said since they have been causing much damage to crops and fruits, besides attacking women and children in particular, the Government has decided to open 'Rescue Centre for Life Care' near Shimla.
The Chief Minister also said that another Task Forces should also be constituted for dealing with monkeys on National highways, villages and cities. Oral contraceptives should also be tried as a measure to control reproduction in female monkeys.
Secretary All India Congress Committee (AICC), Asha Kumari suggested legal steps to be taken for feeding monkeys on National highways. She said apart from the law being enacted, no action was taken by law agencies at permanent points along-with National highways where groups of monkeys were fed which could lead to any major mishap.
She said that a permanent solution was required to deal with the menace of monkeys and other wild life creating havoc. The teams need to focus on particular areas and then find out the drop rate if any in monkey population.
Additional Chief Secretary Tarun Kapoor said that to identify the sterilized monkeys, permanent tattooing was being done in middle of the forehead, adding that the mobile monkey sterilization units (Van) would also be quite useful when made operational. He said that 'Rescue Centre for Life Care' would come up near Shimla having capacity to house around 1000 rogue and sterilized monkeys.
Kapoor said that a list of 53 tehsils and sub-tehsils have been sent to Ministry of Environment (MoEF) Government of India where monkeys could be declared as vermin to provide much needed relief to the farmers and horticulturists. He said that soon a survey would be conducted jointly with Wild Life Institute of India, (WII) Dehradun to declare Wild Boar, Sambar and Nilgai as vermin animals. As of now a decision was taken for culling monkeys in as many as 38 tehsils and sub tehsils in which monkeys have been declared vermin by MOEF. He said the monkey watchers have been deployed near schools in Shimla to keep an eye on the monkeys and prevent any attack on children.
Principal Chief Conservator Forest, Wild Life SK Sharma revealed that as many as 1,25, 266 monkeys have been sterilized till march this year out of total estimated population of 2,07,614 as per survey conducted in 2015. He said that Rapid Response Teams (RRT) at each circle level headed by Divisional Forest Officer would be provided tranquilizing guns to sterilize monkeys, besides capturing in transport cages. He said that a feeding station for monkeys was being set up at Jakhoo Temple. He said that it was for the first time that the rates of compensation had also been enhanced.
Chief Secretary VC Pharka, Principal Chief Conservator of Forests SS Negi, Dr. Honnavali N. Kumara, Senior scientist from Coimbatore, Tamil Nadu, Qamar Quershi, Scientists, WII, were also present amongst others.