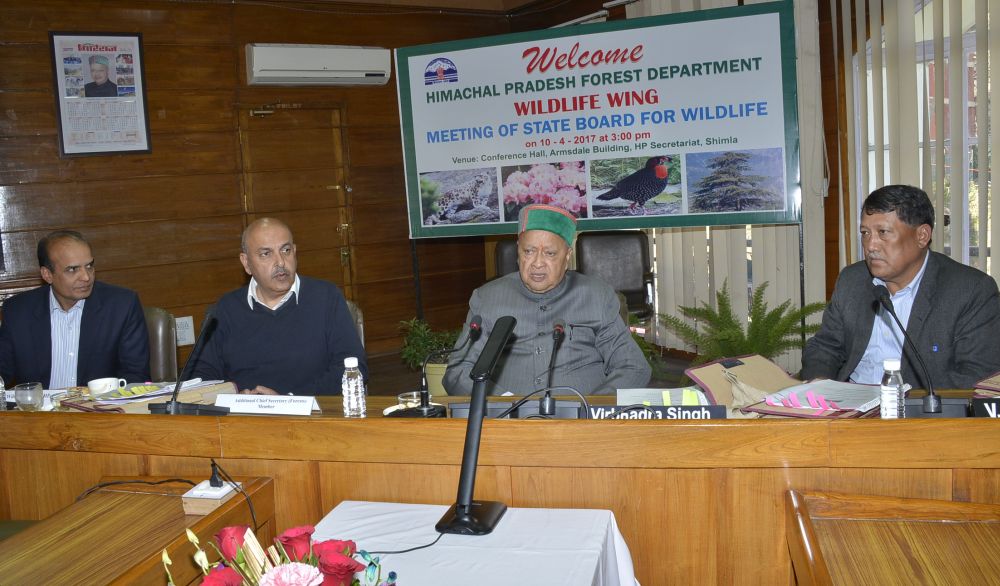 To keep check on killing of wild life, the state government has decided to set up State Wild Life Crime Control Unit. The Unit would be jointly managed by the Police and Forest departments.
Chief Minister Virbhadra Singh, in a meeting of State Board for Wild Life today, said the state government was making all-out efforts for preservation and conservation of wild life in the state and it was a matter of great contentment that the efforts of Himachal Pradesh for preservation of wild life had been recognized at the national level.
He stressed to construct separate passages for movement of wild life in the sanctuaries and National Parks, where new roads were being constructed.
He said Himachal was the largest habitat of snow leopard in the country next to Kashmir to protect snow leopard. The state government had taken matter with Nature Conservation Foundation (NCF), Banglore for undertaking snow leopard survey in the State during the current financial year. NCF has already taken up the survey work in Spiti under the project.
He said a sum of Rs. 8.85 crore had been spent on different activities by the state Tourism department in Ramsar Site Pong Dam in Kangra district for the development of tourism activities and it was being further strengthened so that more facilities could be made available at this international wetland.
Chief Minister also directed to hold meeting of the State Board for Wild Life once or twice a year to ensure proper monitoring of different activities and on-going projects.
Chief Secretary VC Pharka directed the departments concerned to issue advisory to the tourists especially trekkers before they move to some specific place so as to ensure their safety.