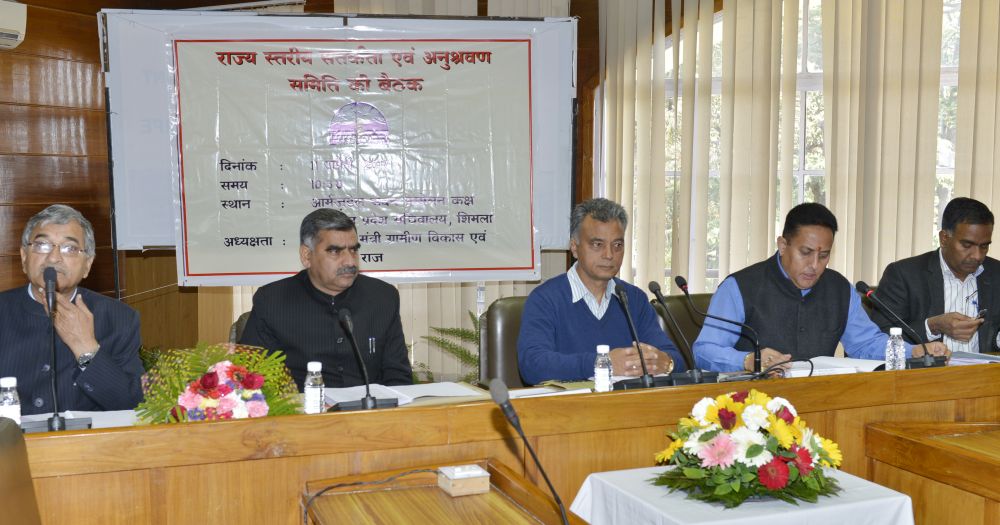 Rural Development and Panchayati Raj Minister Anil Sharma claimed that under Mahatma Gandhi National Rural Employment Guarantee Yojna (MGNREGS), 240 lakh mandays were generated against target of 218 lakh mandays during 2016-17 spending Rs. 625 crore against Rs. 396 crore target and the achievement was 108 percent.
Sharma, in the State level Vigilance & Monitoring Committee meeting, today, said that Rs. 700 crore has been approved for current financial year to generate 250 lakh mandays. He said the state was now able to clear all previous liabilities. He said Rs. 1.95000 lakh had been spent on various components of the scheme from 2013-14 to 2016-17.
Rural Development Minister said Rs. 500 crore project under Deen Dyal Rural Skill Scheme had been adopted by the State Government and first instalment of Rs. 133 crore has also been received. The scheme envisages to provide job oriented training for 15000 unemployed youth between 18-35 years age of BPL families during next three years. The State had already completed selection of 5400 youth for this year, added he.
Similarly the National Rural Livelihood Mission (NLRM) aimed to strengthen and provide greater financial support to the poor families and with the goal of poverty alleviation through social mobilization, capacity building, financial inclusion, skill generation and sustainable livelihood is being implemented in letter and spirit in the State. As of today 15563 Self Help Groups had been formulated across the State and funds of Rs. 12072 had been disbursed for adopting own ventures, informed the Minister.
Anil Sharma said under Pradhan Mantri Awas Gramin Yojna launched in 2016-17 (erstwhile Indira Awas Yojna), 3501 houses were sanctioned for which Rs. 6590 lakh were allotted to eligible families.
Discussing on Swachh Bharat Mission, the Minister said 202687 toilets had been constructed in the State from 2013 to 2017. He said Solid Liquid Waste Management will be implemented in a project mode in all the punchayats of the State for which each gram panchayat would be Rs. 7 lakh to 20 lakh as per the basis of households.
It was informed that 2872 works of outlay 4670 crore were sanctioned under Pradhan Mantri Gram Sadak Yojna, out of which 2121 were completed providing connectivity to 3445 habitations. As many as 1900 works had been allotted for current financial year to cost Rs. 600 crore.
MLA Sanjay Rattan and Col. Inder Singh, Principal Secretary, Panchayati Raj & Rural Development Onkar Sharma, Director (RD) Shri R. Selvam, Chief Executive Officer NLRM S.M. Sani, Project Director Bhuwan and Officers of Line Departments were also presented among others.