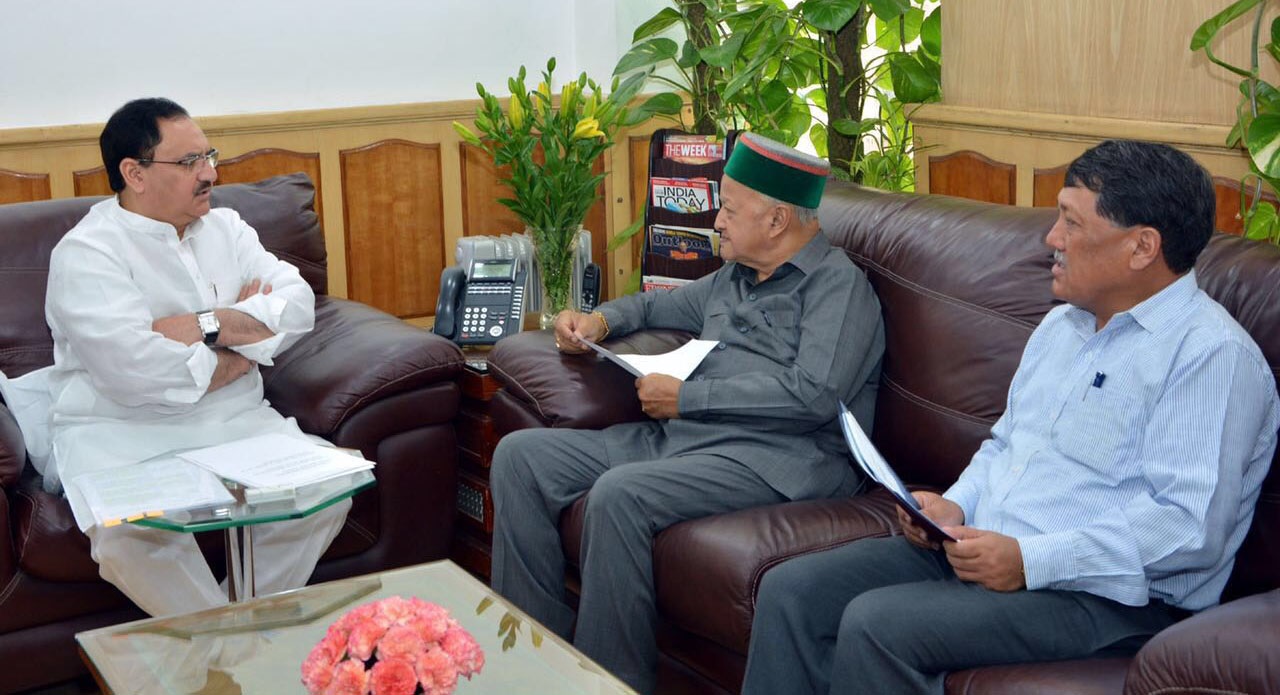 New Delhi: Himachal Pradesh Chief Minister Virbhadra Singh called on the Union Minister for Health & Family Welfare JP Nadda, today and asked him to expedite the process of establishing AIIMS in the state.
The Chief Minister apprised the Union Minister that the State had identified 1200 bighas of land for the premier medical institute in Bilaspur district and out of which 750 bighas of non-forest land had been transferred for the institute. The documentation of forest clearance of remaining 450 bighas of land was under consideration of the Union Government, the CM informed the minister and urged for early intervention of the Centre to expedite the work.
Singh also requested Union Minister for providing financial support for installing the equipment in ESI Medical College at Mandi. J P Nadda assured all the support and cooperation to the state of Himachal Pradesh. He apprised the minister that State had signed a Memorandum of Understanding to take over the medical college building at Ner Chowk in Mandi district and the academic session would be started from next year for which there was requirement of equipments and other facilities. He said the State Government had to pay Rs. 285 crore to ESI over a period of five years beginning from 2019 in lieu of this college building. He said the State Government was committed to provide quality health services to the people of the State but due to limited resources, the State would require central assistance for making it a premier institute.
Virbhadra Singh demanded the Union Minister for early approval of the proposals of the State to establish Mother Child Health Care Centre (MCH) at Bilaspur and 50 bedded hospital at Ghumarwin.
Nadda assured the Chief Minister that Union Health Ministry would consider all these issues on priority and high level authorities of the ministry had already been directed to take effective steps in this regard.
The Union Minister informed that the Ministry is seeking proposals from the State for establishing Centre of Excellence (CoE) for Mental Health at the cost of Rs 30 Crore and the Government of Himachal Pradesh should send the proposal to the Ministry for consideration. He further mentioned that the Ministry has approved the establishment of Geriatric Centre at Tanda under the Rashtriya Varishth Jan Swasthya Yojana (RVJSY). The state government is requested to adopt this scheme and sign a MoU with the Ministry.
Chief Secretary V.C. Pharka, Principal Advisor to the Chief Minister T.G. Negi and Private Secretary to the Union Health Minister Amandeep Garg were also present at the meeting.