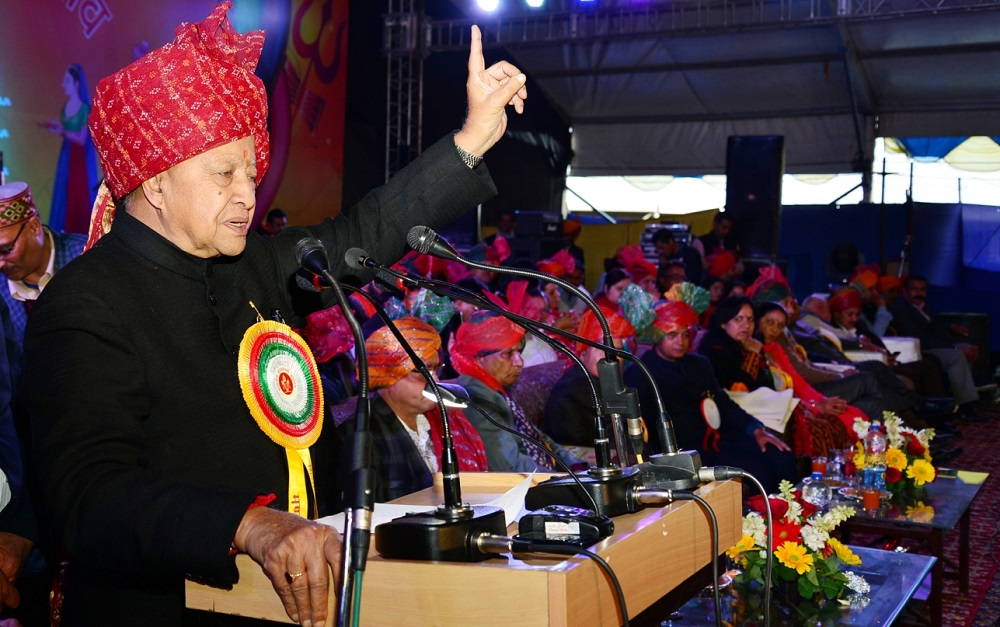 The International Shivratri fair of Mandi district began today as Chief Minister Virbhadra Singh formally announced the opening of the Mela at historical Paddal ground.
After paying obeisance at the famous Madho Rai temple the Chief Minister participated in the traditional 'Jaleb' (Shobha Yatra) of International Shivratri fair. The Chief Minister wished prosperity to the people of the State on the occasion and particularly of Mandi district.
Thousands of people of the area dressed in their colourful attire thronged the procession carrying along the palanquins of the local deities and marched towards the Paddal Mela ground. A little less than two hundred Devtas participated in the 'Jaleb', the traditional Shobha Yatra, from almost all corners of the district.
He said that the life of the people of the state revolves around the local god and goddesses and the local deities were inseparable part of the people and participate in almost all the activities. We should perform all the religious ceremonies as per the traditional practise.
He said that it was evident from the history that the civilizations who failed to preserve their culture and customs, had completely vanished. Our identity was our unique culture and traditions and needs to be preserved. He said that all the fairs of the State revolve around the local deities who were inseparable part of our life.
The Chief Minister announced 10 percent increase in Nazarana of the local deities. He said that it was for the first time that the Bajantaris (musicians) would also be given Nazarana separately, which was never given before.
He also assured to provide enough budget for conservation of ancient temples. The CM stated the government was serious to protect those temples which were on the verge of collapse. He also talked about his close association with the people of Mandi.
He also announced setting up of medical university in Mandi district and the first of the State. He said that the medical college at Ner Chowk would start functioning in this fiscal adding that a medical university would be opened in Mandi district to give push to health sector.