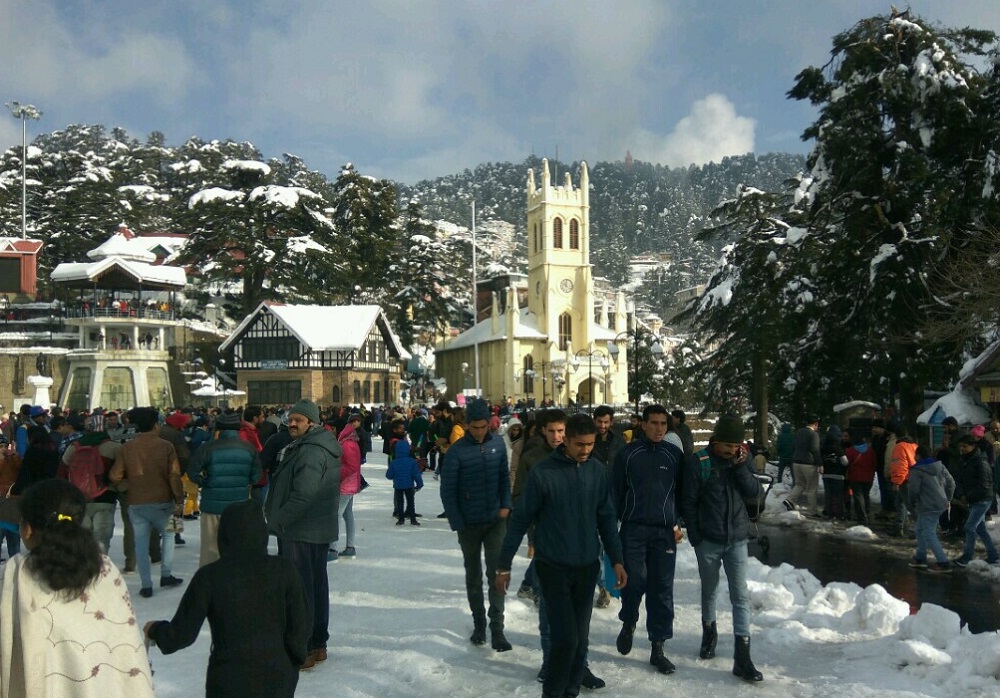 While administration claims it is doing the best that can be done, life in capital Shimla derailed after spell of snow that had begun on Friday. The snowfall has not only disrupted transportation, but has also casted spell of darkness in several localities of Shimla due to black out. Reportedly, snowfall has uprooted over 100 trees at various places in Shimla leading to collapse of electricity poles and over-head power lines. Locals as well as tourists were arrested inside their homes and hotels. For the fourth day, localities like Tutikandi, Khalini, Ghoda Chowki, Lakkar Bazaar etc. continued to face blackout as electricity could not be restored on Monday too.
The temperature dipped to below zero degree and without power-supply, people shivered in cold and darkness. Also, daily supplies like milk, bread, eggs, and newspapers were also hit and several regions could not receive goods of basic needs.
Fallen trees have been reported to have caused damaged worth lakhs as many cars and buildings were damaged in various parts of the capital. Places like Marina, High Court, Shankhali, Tutikandi, Boileauganj, Longwood etc. witnessed falling of trees due to snowfall. Roads to Indira Gandhi Medical College and Hospital and Kamala Nehru Hospital were also obstructed due to falling of trees.
The water supply schemes were also hit as water could not be pumped due to lack of power-supply. Several localities haven't received water supply for last 3-4 days.
The upper Shimla remained cut-off on Monday too and large number of tourists were stuck beyond Kufri. The life line of the city – the Cartroad or Circular road also remained closed for traffic on Monday, leading to huge inconvenience to local commuters as well as tourists.
Tourist thronged to Shimla after news of snowfall broke-out due to which Shimla-Chandigarh National Highway was choked with long traffic jams. Several tourists couldn't make it to Shimla and returned from Shoghi. Similarly, the Shimla-Manali National Highway also remained blocked until Monday when administration claimed the route has been opened.
Meanwhile, cab owners, private bus operators, hoteliers and even shopkeepers have reportedly raised prices of commodities beyond maximum retail price.
The electricity department, Shimla Municipal Corporation, Public Works Department, and Irrigation and Public Health Department did not show signs of co-ordination due to which struggle of the capital intensified. The claims of the administration regarding their preparedness for dealing with heavy snowfall have proved empty.
Similar situation prevailed in Manali that experience seasons heaviest snowfall. The tourists were stuck and roads were choked. Like Shimla, many localities in Manali also remained in dark due to disruption of power supply.
Tribal areas of Himachal including Kinnaur, Chamba, Mandi, Sirmaur, Shimla and Kullu remained cut-off from the main roads. In total, over 500 routes failed in Himachal and are likely to remain closed on Monday as well. The met department has predicted dry spell for next 3-4 days and Himachal can witness more snowfall in the coming days.